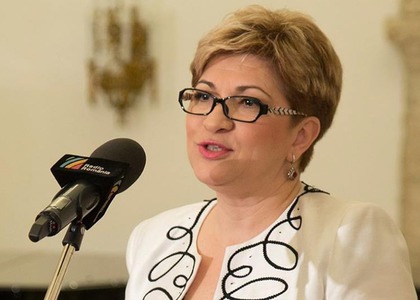 Liliana Staicu, music bands manager - on the last part of the concert season 2018-2019
Thursday, 2 May 2019 , ora 13.34

The last part of the concert season at Sala Radio begins next week with a series of three events starring the famous quartet from Iasi, Ad Libitum, on their first performance in Bucharest in a long time. The ensemble recently celebrated 30 years of activity. The recital will take place on Thursday, the 4th of June, in between the usual seasonal concerts of the Radio Chamber Orchestra and the Radio National Orchestra, where two of the members of Ad Libitum will be soloists. On Wednesday, cellist Filip Papa will perform the famous Variations on a Rococo Theme by Tchaikovsky alongside the Radio Chamber Orchestra, in a programme that will also include works by Mozart and Beethoven. Finally, on Friday, violinist Remus Azoiței will be the soloist of a Beethoven concerto , which he will perform accompanied by the Radio National Orchestra, conducted by Peter Feranec.
The last three months of the concert season at Sala Radio will include many outstanding performances. One such performance is Luiza Borac's interpretation of Grieg's Concerto for the Piano and Orchestra. At the same concert she will also perform, for the first time ever in Bucharest, the first movement of one of Enescu's concertos for piano and orchestra, recently discovered and corrected by composer Adrian Pop. Other noteworthy concert you won't want to miss this season feature violinists Vlad Stănculeasa and Bogdan Zvorișteanu - both concertmasters of prestigious European orchestras - as soloists of concertos by Bruch and Tchaikovsky; harpist Maria Bîldea playing one of the most spectacular and rarely performed concertos dedicated to this instrument by Alberto Ginastera. Closing the concert season of the National Radio Orchestra on June 14th is cellist Andrei Ioniță, who will be performing a concerto by Schumann.
On Sala Radio's stage there will also be soloists from the Radio Orchestra itself - violinists Alexandru Tomescu, Gabriel Croitoru and Cristina Anghelescu, pianist Horia Mihail and cellist Răzvan Suma - in concerts and traditional recitals that are part of the Stradivarius and the Pianul Călător tours.
And as Easter approaches, both the Radio National Orchestra and the Radio Chamber Orchestra prepared two impressive opuses which they will perform with the Academic Radio Choir and a variety of exceptional soloists - the requiems by Mozart and Brahms.
I will not finish this presentation of the concert season at Sala Radio without also mentioning the concerts of the Radio Children's Choir, the Traditional Music Orchestra and the Radio Romania Big Band, the latter featuring the young but extremely talented Italian vocalist Walter Ricci as soloist in its April concert, dedicated to a legend of the genre - Frank Sinatra.
You are invited to Sala Radio, every week, until the end of this concert season.

Translated by Badea Stefan,
MTTLC 2nd year, University of Bucharest