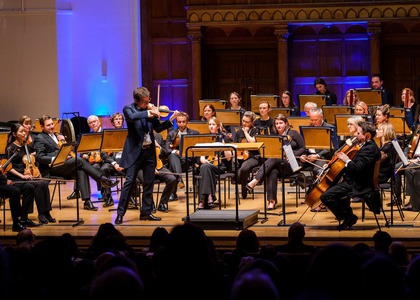 Interview with violinist Alexandru Tomescu
Tuesday, 21 May 2019 , ora 10.51

After the successful concerts at the beginning of May in the U.K., Alexandru Tomescu is preparing for the beginning of another Stradivarius tour on May 9th.
You performed in the U.K. on the 1st and the 3rd of May. On the 1st of May it was the debut with the Royal Philharmonic Orchestra from London. How was it?
It was, indeed, a memorable experience for me. I've known this orchestra and followed it for a long time, so it was a pleasure to work with them as a soloist. I have discovered some exceptional professionals. During the first concert, at Cadogan Hall in London, the orchestra was conducted by Gabriel Bebeșelea and the collaboration was excellent, especially we didn't have much time to prepare for the concert. Everything was perfect: the orchestra - perfect, the conductor - perfect, the hall had incredible acoustics. So everything went well, very well. And the second concert took place in the Winchester Cathedral - which is a thousand years old, full of history and also has great acoustics, the conductor was the British conductor Christopher Petrie. Other than the pieces I performed myself, Ciprian Porumbescu's Ballad and Camille Saint-Saens's Concerto no. 3, there was also the first performance of a piece by Călin Huma.

In another interview forRadio România Muzical you said that before every Stradivarius tour you give yourself a few days of bootcamp. Did you have enough time for it this year?
Of course, getting ready for a tour is very important to me and I pay great attention to it. This year I had very intense work sessions with artists with whom I will tour, harpist Delphine Benhamou from France - we worked a lot here, in Bucharest, and we had some concerts before the tour; we also performed together in Paris, France, a few weeks ago...With actor Lari Georgescu as well, at the National Theatre in Bucharest, we had multiple rehearsals to harmonize and prepare every detail of our performances for the audience.

On May 9th you start a new edition of the Stradivarius Tour with these two artists - Delphine Benhamou and Lari Georgescu. What's new in this tour?
In this tour, for the first time, the sound of the violin will be accompanied by the harp. Besides the pieces written specifically for these two instruments, there will be a series of arrangements specially made for this tour. The tour takes place under the auspices of the Romania-France Season, thus we will have Romanian music - George Enescu, Bela Bartok, Sabina Ulubeanu, who composed a piece for this tour, and, of course, French composers such as Camille Saint-Saens, Jules Massenet, Claude Debussy, Maurice Ravel. It will be truly colorful. French and Romanian music shine through this extremely rich color palette. And I am sure that the combination of violin and harp will be spectacular. Lari Georgescu will perform a modern dance this time, which will give another dimension to what we are doing on stage.

One of this year's unique pieces is by Sabina Ulubeanu. What drew you to this piece?
I have known Sabina for many years, she even wrote a few solo violin pieces for me and we thought that we should show what Romania has to offer when it comes to contemporary composers, composers who are still alive, who are here, among us. I really like her boldness in playing with so many different sonorities, so I thought that this special composition of hers, titled Pas Encore, will be perfectly integrated in our musical performance.
Interview by Petre Fugaciu
Translated by Alina-Nicoleta Duminică,
MTTLC 1, University of Bucharest