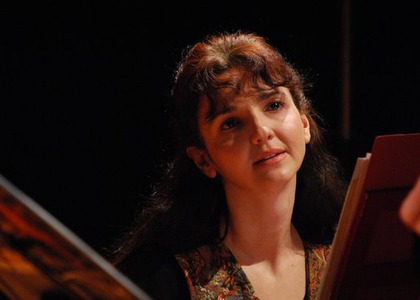 Interview with the harpsichordist Cipriana Smărăndescu
Thursday, 10 October 2019 , ora 13.44

The artist shares details about harpsichordrepertoire, about its cultural backdrop and about the old music enthusiasts.

I have noticed that throughout your recitals, you used the motto Non solo Bach several times. What is the meaning behind this idea and where does it originate form?
Naturally, it has its origins precisely in the music of Johann Sebastian Bach, but I wanted to offer the public a broader palette of the musical life of the great German composer. What does this mean? In the program that I will present at the end of October, in Sassari, I have included, in addition to the works of Johann Sebastian Bach, a number of works belonging to some of his disciples or his sons, precisely to better understand the musical life that Bach lived. Why Bach? Because, studying with one of Tom Koopman's students, a harpsichordist this is very well anchored in Bach's music, I also embarked on this road and now I also stride towardsa vast diversity of the great Bach's music.

During October 24th - 26th, you will also host a series of masterclasses in Sassari. Please, begin by telling us about the Old Music International Festival.
It is a very young festival, although I share a very old musical friendship with the festival's organizers. They are two of the musicians with whom I sojourned in Timisoara, in 2000, during the medieval festival. I'm referring to the teorbist Carl Jerome Sportato and to Daniele Scernuto who plays the viola da gamba. This year, they launched this beautiful initiative of organizing their own festival in Susarry, where Calogero teaches at the Conservatory, and tried to gather both very young interpreters and ensembles or musicians with some experience, in order to give this Italian region the most important musical momentum in the field of old music - I am talking about the Ivenilias Ensembles or about the Sassari University Choir.

How did you customize the program?
First and foremost, I chose major works by Johann Sebastian Bach, and here I'm talking about Chromatic Fantasia and Fugue in re minor and Toccata in mi minor, sosignificant works belonging to thecomposer's oeuvre. Moreover, let's say, for teaching purposes, I included a series of works that are part of the album dedicated to Ana Magdalena Bach or of the one dedicated to Wilhelm Friedemann Bach. In addition, and here I will reveal a project that I am passionate about and that will take over all of my time in the future, I have added to the program a series of variations from the Goldberg Variations, also belonging to Johann Sebastian Bach, as the Goldberg Variations will represent the next project as far as I'm concerned.
Interview by PetreFugaciu
Translated by Irina Ștefan