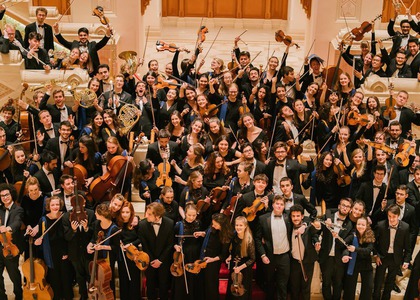 An interview with Irina Iacob about the auditions for the European Union Youth Orchestra
Monday, 14 October 2019 , ora 9.39

The annual selection for the European Union Youth Orchestra (EUYO) will take place on November 3rd , where young Romanian musicians of 16 and up to 26 years old can sign up until the 13th of October. Irina Iacob, the initiative's organizer and a member of the Romanian Institute of Culture, offers us some insights.

What are the opportunities that come before the young musicians as contestants of this years' audition as well as members of the European Union Youth Orchestra?
Aside from having the chance of becoming its members, the participants of this years' selection for EUYO, can take part in a number of other orchestral projects: chamber music projects or workshops with well-known orchestra teachers. The Concertgebow Orchestra will present a special opportunity starting this year: a a summer school for musicians with ages between 14 and 17 years old, for which a letter of recommendation from an orchestra or a musical institution is required. After the last years' auditions, five young musicians, including one Romanian, were recommended by the EUYO for this particular orchestra.

How will the auditions be held in terms of challenges, the jury's proposed repertoire and the criteria of selection?
The selection will consist of an audition in front of an EUYO teacher. The musicians will have to prepare an orchestral piece and a solo of choice. These musical compositions can all be found on the EUYO site in the Apply section. There, you can also find the sheet music and all the details regarding their interpretation and selection. An accompanist will be provided in case the musicians need one; the same accompanist will be provided for everybody as to establish a sense of fairness. The final selection will be held after the members of the orchestra will have reviewed each recording of the European contestants. Aside from their superior level of interpretation, their organizational skills, their ability to work in an orchestra and to collaborate with the other musicians will be certainly taken into account, for they will work with one hundred and something young musicians from 20 countries, all having different experiences and different styles; having said that, they'll have to prove that they are able to work together.

What sets the European Union Youth Orchestra apart from other ensembles?
First of all, it is an orchestra that hosts members from all European Union countries, which has to come together and perform flawlessly. It is an orchestra that offers practice and learning opportunities for the young musicians. Before each tour, they go on a three week stay at Ferrara or Grafenegg, where they work with tutors from the largest European ensembles and then, they go out on tour where they perform on the most prestigious European stages and more.

EUYO in ROHM - photo by Andrew McCoy
Interview by Ana-Maria Cazacu
Translated by Maria Magdalena Costea, Universitatea București,
Facultatea de Limbi și Literaturi Străine Master MTTLC, anul I