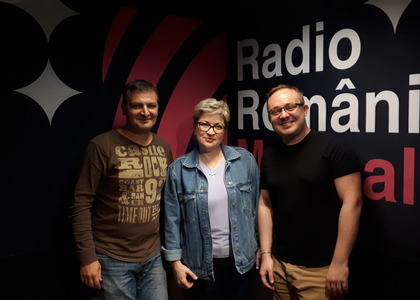 Interview with pianist Matei Varga and Liliana Staicu, manager of the Radio Music Bands at "Musica Viva"
Wednesday, 16 October 2019 , ora 15.43

This evening, from 7.00 p.m., on the Sala Radio stage starts the 2019-2020 session of the National Radio Orchestra, the soloist tonight will be the Romanian pianist Matei Varga, who currently lives in New York. We invited them here, live in our studio, Liliana Staicu, manager of the Radio Music Bands, and, of course, the soloist of the evening, pianist Matei Varga.

Good morning. Welcome to our studio.
Liliana Staicu: Good morning.
Matei Varga: It's nice to see you.

We will start with a question for Liliana Staicu, of course. With what mindset do you go into the new session? And, if possible, could you reveal some of the events that will happen from October to December?
Liliana Staicu: Yes, I'm excited, of course, because any start of a session brings some excitement about the way in which the public will appreciate the repertoire chosen by us. In this first part of the session which starts today and will be followed by the opening of the Radio Chamber Orchestra next Wednesday, with Ladislau Horvath as conductor and Alexandru Tomescu as soloist in Mendelssohn's Violin Concerto in E minor. During this session there will be some unique moments, works that were never performed on stages in Romania or were performed very rarely. By this I mean Alexander von Zemlinski's "The Little Mermaid" symphonic poem, which will have its premiere in Romania, Ralph Vaughan Williams' Symphony No. 2 "A London Symphony", Dumitru Capoianu's Concerto for Violin and Orchestra, which is performed very rarely as well, Sibelius' Symphony No. 2; I think the last performance of this symphony was at the Enescu Festival a few editions back, conducted by Cristian Mandeal. So, there is a new repertoire. And, of course, there is the well known repertoire, with pieces which are well loved by the audience. On the Sala Radio stage will perform, among others, Ioana Cristina Goicea, winner of this year's Queen Elisabeth Competition in Brussels...

Actually we will be able to listen to her tomorrow...
Liliana Staicu: ....and next week she will perform together with the National Radio Orchestra, performing Bruch's concerto; the percussionist Alexandru Anastasiu, the Polish pianist Beata Bilinska, or the singer Irina Sârbu who will perform on the 30th of October together with the Radio Chamber Orchestra, Bucharest Jazz Orchestra and the Cazanoi Brothers Folk Band in a unique concert Symphonic Jazz Fusion Maria Tănase. So, I think there are some interesting performances during this session and we welcome the audience to Sala Radio.
(...)

The pianist Matei Varga admitted that he woke up at 7 o 'clock and that the whole night Schumann's music was playing in his head because this evening he will perform Piano Concerto in A minor, a concert conducted by the young conductor Christian Reif. I have seen that this piece is in your current repertoire. I was wondering if you remember when you performed this concerto for the first time...
Matei Varga: I hoped you would ask me this! It's not only a special moment for me, but it's actually a special moment for my link to the radio. Because when I was 15 years old I was invited by Rodica Sava to the "Muzicieni de azi, muzicieni de mâine" show to perform in one of those concerts together with the Radio Chamber Orchestra. I had started my studies with my teachers, Ana Pitiș and Ioana Minei, a year prior, I had just finished a new repertoire and I had performed Liszt's Concerto no. 1 with the Craiova Philharmonic,...a concerto which I saw as a perfect choice for Rodica Sava's invitation to the "Muzicieni de azi, muzicieni de mâine" show. I think that the ladies were going to Sinaia with some business and my father took them to the train station and told them "Matei was invited by Mrs. Sava and he was thinking to perform, of course, Liszt's concerto." The show was scheduled pretty soon, in 4 or 5 weeks. They pondered this matter and Mrs. Minei wrote me a letter, which I still have today, and she explained that yes Liszt was a good choice, but what would be ideal at this point would be to try to finish, to bring to an appropriate level because study never ends...Schumann's concerto that I was working on. I read the letter three times to convince myself I wasn't dreaming and I said "Very well, I adore Schumann's concerto...my favorite performances being those by Valentin Gheorghiu and of course Lipatti as well...Very well, we'll do this!" And after 5 weeks I debuted with the Schumman Concerto together with the Radio Chamber Orchestra conducted by Ludovic Bacs, a collaboration that I hold close to my heart. And so, I will be back on this stage after 24 years with the National Orchestra this time and a very young and talented conductor, who actually graduated from the Julliard School in New York where I also come from. And, I hope, I will bring a different interpretation than the one I did at 15.

You read my mind! That was going to be the next question. I guess concerts are like books. When you read it for the first time you see something, then after a few years, after 10-20 years, you see different things when you re-read a book. Is it the same with Schumann?
Matei Varga:I will be honest with you. I listened to part of that Schumann concerto from the recording, which was broadcast on TV as well, I even saw the video recording a week ago, and I said to myself "Oh God! I hope I will play it better this time!" Even though, at that time, I have to admit, I was very proud of myself for being able to prepare this concerto in 5 weeks and perform in a successful concert. But of course much changed and if I am again invited in 20 years, I hope things will change once again for the better.

Tell us something about...what do you like best about Schumann?
Matei Varga:I like Schumann a lot, as a pianist and a composer of pieces for piano. As I said in a short interview yesterday, that of course when we talk about piano music, about the Romantic masters of piano music, we might first bring up Chopin, Liszt, and possibly Rachmaninoff, which I think is a bit unfair. I don't mean to say that Schumann is not being appreciated, he is of course loved by everyone, but as a pianist I think he is a bit underrated nowadays. His solo piano works are for me the most original and special pieces ever written, and the concerto is like a oasis of light, of poetry, of lyricism, of strength of course, of contrast and of love, and for that I feel he put so much in these lines. And I admit it is a concerto I grew up with, Valentin Gheorghiu's interpretation, which I listened to again with great pleasure and which provided and still provides a great source of inspiration.
Liliana Staicu: I hope Valentin Gheorghiu is listening to us now, as he is a devoted listener of our radio station.

Because time flies fast during the morning show...Matei, any message for the audience in Bucharest, in Romania?
Matei Varga: All I wish for is to come back many times and be together with them. This is my audience and especially the radio audience is my home!

So, this evening you can listen to pianist Matei Varga and the National Radio Orchestra in Schumann's Piano Concerto in A minor...
Liliana Staicu: During the second part of the concert, Mussorgski-Ravel's Pictures at an Exhibition will be performed, a composition that started from a piano piece. And for those who won't attend the concert...We welcome you to the concert, but for those who won't be able to attend, the concert will be broadcast live on Radio România Muzical and Radio România Cultural.
Interview by Liviu Pețu
Translated by Alina-Nicoleta Duminică, MTTLC 2, Universitatea din București,
Facultatea de Limbi și Literaturi Străine