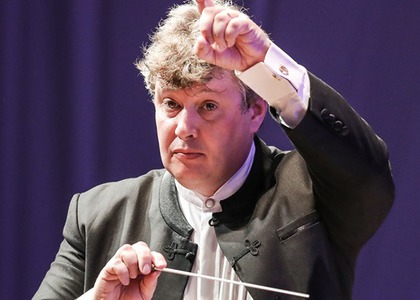 Interview with conductor Alexander Walker
Monday, 21 October 2019 , ora 10.17

The Symphony Orchestra and the "George Enescu" Philharmonic Choir will be presenting Edward Elgar's "The Dream of Gerontius" at 7PM on Thursday the 17th and Friday the 18th in the Romanian Athenaeum's main hall. Tenor Oliver Johnston, mezzo-soprano Aura Twarowska, and bass Marius Boloș will be guest soloists. Lucian Haralambie spoke with Alexander Walker, the conductor of both concerts, about this event.

This is the forth collaboration I have had with the "George Enescu" Philharmonic and I am happy to be back working with these musicians to present one of my favourite pieces: Edward Elgar's oratorio, "The Dream of Gerontius". There are three important elements for me when it comes to the Romanian Athenaeum; the first one is the building itself because it is a perfect setting for such a concert. The second element is the orchestra; I believe that Romanian ensembles, but especially the "George Enescu" Philharmonic Orchestra, have an old fashioned sound... the chords create a rich sound with a wide rage of nuances... They use a portamento style, something which is no longer used in Great Britain, or the United States. The third one is the "George Enescu" Philharmonic Choir, a truly professional and wonderful ensemble. In Great Britain we usually work with very good amateur choirs, especially for this sort of piece. But having the opportunity to conduct two professional ensembles makes this experience significant but also very touching.

Tenor Oliver Johnston, mezzo-soprano Aura Twarowska, and bass Marius Boloș will be soloists. Why did you choose to collaborate with these musicians?
The role of Gerontius is one of a kind and I felt the need to bring a British soloist who is very familiar with the composition; that would be Oliver Johnston, a young soloist, at only 30 years old, highly regarded, who at the moment is collaborating with the Rome Opera House. He was in fact one of my students at the Royal Academy of Music 12 or 13 years ago; I was glad to see his career flourish and I wanted to collaborate on this concert because the role of Gerontius is close to his heart. In Elgar's time an opera voice was chosen to perform this role and this is exactly what we see from Oliver Johnston. He is a complicated character and a fitting voice is required, a soloist with great attention to details. That is why I have chosen Oliver. And Aura Twarowska and Marius Boloș are two of the best Romanian soloists, with impressive voices and a vast experience, and they are very well suited to perform their roles.

Elgar's oratorio, "The Dream of Gerontius", was often compared with Richard Wagner's music. Do you agree?
One could say that Elgar reached his artistic maturity rather late, with the "Enigma Variations" in 1899 when he was 42 years old. "The Dream of Gerontius", which many consider to be a masterpiece as well as I do, would be completed one year later. Elgar immersed himself in Wagner's music from an early age... He wrote organ transcripts which he would perform, he would often go to Bayreuth... He was very interested in Wagner's music, but just like every great composer he turned it into something of his own. I believe "Parsifal" would be the closest one to "The Dream of Gerontius" and that is because of the complex writing that went into the characters of Gerontius and Amfortas.
This piece is very special to me. It is full of emotion and I have to admit there are times when I find it difficult to even continue the rehearsals because of this. The public should experience "The Dream of Gerontius" as a revelation.

Translated by Dinu Alina-Maria, Universitatea București,
Facultatea de Limbi și Literaturi Străine, MTTLC, An I