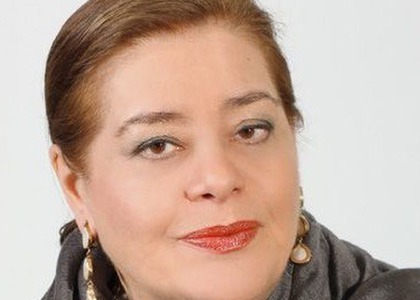 Interview with Larissa Gerghieva
Wednesday, 23 October 2019 , ora 14.55

This evening, the National University of Music in Bucharest is the host of the "Imperial Divas" gala concert, event where distinguished singers will perform on the stage of "George Enescu" Hall, in the International Competition "Grand Prix of the Opera". The event is dedicated to soprano Lidia Lipovskaia, one of the best-known artists of the first half of the last century. The recital will be hosted by the academician Octavian Lazar Cosma and Larissa Gerghieva, pianist, accompanist and vocal coach. She is giving us more insight about the event, in this interview by PetreFugaciu.
What can you tell us about your work on this project?

I have known Professor Cosma for several years now, and together we plan artistic projects, which take place either in Romania or in Russia. During this collaboration period, we realized that the closest connection between the two countries is the artistic one. That is why we considered that it is the proper moment to do a project that will highlight those artists who make this artistic connection happen between our countries. For example, today's concert is dedicated to soprano Lidia Lipkovskaia.
What did you like about the two Romanian artists from tonight?

I noticed their vocal quality. I watched them as a member of the International Grand Prix Competition's jury in Romania during the summer. I saw their great artistic potential, the timbre of the two was truly amazing, and they showed a typical vocal formation for the opera repertoire. At the same time, I noticed the artistic side of their personality. I liked the fact that young people always strive to share their thoughts, emotions, and the state of the character that they play in the domain or the song. Their determination shows the call for music, the gift, and the talent that the two artists have. Both Romanian artists - Silviu Alexandru Mihăilă and Aida Pascu - are really talented, and we can all see that they have what it takes for an artist to be definitely ready for the stage. Let me repeat it - the most important thing is to be an artist, to be talented and, what I am adding now - is to love what you do.

Translated by Mangalagiu Mădălina, Universitatea din București,
Facultatea de Limbi șiLiteraturi Străine, MTTLC Anul 1