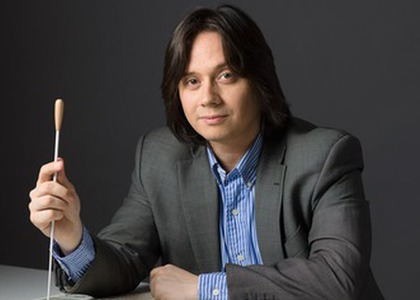 Interview with Gabriel Bebeselea about the Royal Concert at the Romanian Athenaeum
Thursday, 24 October 2019 , ora 14.46

On October 25th, the musician will lead the Romanian Youth Orchestra on the Romanian Atheneum's stage.
To start off I would like to ask, when did your collaboration with the Romanian Youth Orchestra begin?
More than five-six years ago. I held a series of courses in Sinaia, summer courses, where that Romanian youth orchestras summer camp was being held. There was maestro Mandeal, maestro Andreescu, who held these courses in parallel with different youth orchestras, and they all finished with concerts. Therefore I have a long collaboration with Romanian youth orchestras.

It is not the first time you are conducting a Young Talents concert. In 2012 you got on stage at the Romanian Athenaeum together with AlexandruTomescu and the Stradivarius ansamble.
Yes, first of all, I'm very glad for this collaboration with the royal family's foundation and second of all, being a charitable concert, I always try to get involved in these types of projects, but I have had other collaborations with this foundation, I have even conducted the Princess Margareta Foundation's orchestra, made up of musicians who had the foundation's scholarships and who held those scholarships and who were supported by the foundation in their musical endeavours.

How did you start your collaboration with the foundation?
Through an invitation. In fact, maestro Christian Badea was supposed to conduct the concert initially, but he was not in the country then and asked me if I could conduct this concert and so the collaboration begun. I was and still am one of the Princess Margareta Foundation mentors, after I tried to offer a path for the young musicians, so they can perform as lead singers, with different orchestras from around the country and I tried to do as much as I could for the musicians around the country who are and were supported by the Princess Margareta Foundation.

You said you are one of the foundation's mentors. What does this entail?
Periodically, meetings take place with the scholarship students of the foundation and we talk to them about careers, about life. I enjoy them talking more, for them to tell me what wishes they have, what dreams, what determines them to choose this path and so on. As I said earlier, I am very preoccupied by the charitable side, I try to get involved as much as I can in this sense, but at the same time, I consider that musical education needs to be a part of non-educational structures as well, that is, to be part of these foundations that support the endeavours of young artists. In fact, the foundation doesn't support just young musical artists, it supports young visual artists as well, and therefore it is a very useful platform for them to carry out their work and start a journey that, as well as being arduous, is also full of satisfaction.

Talk to us, please, about the programme you are proposing. How was it chosen?
It is actually a journey in the world of Italian opera. All the works are just of Italian opera and introduce almost a century of opera. Practically, we will see the evolution of opera from Verdi to Versim and to the beginning of the twentieth century.

And being a charitable concert, I suppose accessibility was a factor.
Of course, but besides multiple hits, to call them that, there are also arias or orchestra pieces from operas that are lesser known to the general public, but will surely be to the audience's liking.
Interview done by Petre Fugaciu
Translated by Iulia Andrei, Universitatea din Bucuresti,
Facultatea de Limbi și Literaturi Străine, MTTLC Anul I