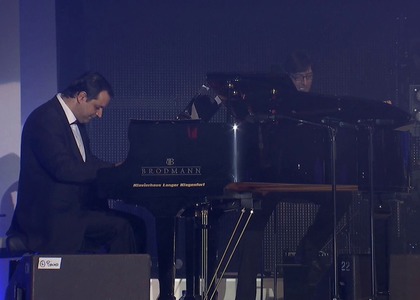 An Interview with the pianist Petrică Andrei, the Radio Big Band's soloist of the Season's Opening Concert
Monday, 28 October 2019 , ora 10.09

Petrică Andrei - He excels every time in mesmerising the audience with the way he masters the keys - with an effortless flow that reminds us of the greatest musicians, inspired, tenacious, but also lyrical when the sheet commands to. He states that his role models are Oscar Peterson, Herbie Hancock, Chick Corea and Gonzalo Rubalcaba, people who have offered him guidance in his path, without dithering him from his mentor, Marius Popp. By the time he was 18, he had already won the debut Prize at the Jazz Festival in Sibiu as his path continued to shine even brighter. I am talking about the prizes he has won in Vilnius, Gexto/Bilbao and Paris, but also his work along esteemed Romanian artists: Aura Urziceanu, Anca Parghel, Decebal Bădilă, Nicolas Simion, Cristian Soleanu, Emil Bâzgă, but also Peter Herbolzheimer, Barry Altschul, Richard Galliano, Roby Lakatos. He collaborated with them in International Festivals and Concerts held in Bucharest, Paris, Vienna, Barcelona, Berlin and Brussels. Petrică Andrei and his Trio are invited to the Big Band Radio's Season Opening Concert, conducted by Ionel Tudor, on the 24th of October, 19:00. Now, we shall find out more about the pianist.

Petrică Andrei, you and your trio have already presentedthe "Joy of life" project in February, at the "Artist in Residence" program in Arcub Hall. We will be seeing the same trio for at the Radio Big Band's Opening Concert on Thursday, the 24th of October. What can you tell us about this project?
It is a project established in 2004. I played on the very same stage, at the Radio Hall during the Bucharest Jazz Festival and I had the bass-player, Decebal Bădilă, as my guest. Since then, we have been invited alost every year to perform on Radio concerts, along with Big Bang Radio, under the skilled baton of Ionel Tudor.

What formula have you prepared for us this time?
As always, we have Vlad Popescu on the drums, and this time we have Michael Acker on the double bass. He is an extraordinary Romanian musician. In February, we had Olivier Gatto from France as a guest in Arcub and this time we have Michael Acker.

What pieces are you going to play this time? Are we to expect a standard repertoire or personal pieces?
The repertoire consists of both personal and standard pieces, so it will be 70% personal pieces and 30% standard pieces.

How would you describe the Big Band Radio collaboration and the conductor Ionel Tudor?
It is always a pleasure to perform with these musicians. We will pe performing three songs together, I won't name them, it shall be a surprise.

Of course. What doesthe life of a jazz musician mean, according to Petrică Andrei?
First of all, it is what defines me, what represent me, it is the music I have been studying since I was a child. I dreamt of becoming a very skilled musician and playing jazz concerts. It is a very special music, a music full of creativity which tom e represents the most beautiful thing.

What is the balance between dexterity and creativity when it comes to your approach?
You must never exploit your technique, even if you have been gifted with a very, very sharp technique. Jazz means an entirely different thing. It is a very creative genre of music and is based mainly on melody; of course, also on the rhythmic technique, but I could not put my finger on how much. Music must flow spontaneously, depending on the theme, on the piece you choose to perform and what approach the melody itself holds.

What are your plans in the near future?
In December, I will be performing in Austria. It's part of another project of mine, a larger formula with four wind-instrument musicians and four violinists. I have been frequently performing there for 8-10 years, but the theme is radically different. There are highly-esteemed concerts with American pop stars as guests such as Mariah Carey, Robbie Williams, Nicole Scherzinger with whom I have also performed.

Thank you for your time and good luck on Thursday on the Romanian Radio-Broadcasting stage.
Thank you as well.
Interview by Marina Nedelcu
Translated by Maria Magdalena Costea, Universitatea București,
Facultatea de Limbi și Literaturi Străine anul I MTTLC