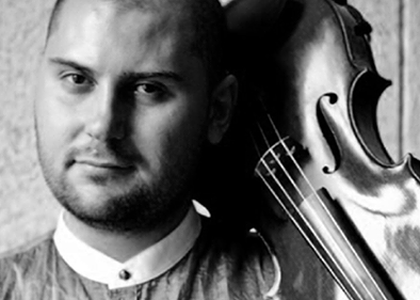 Romanian Chamber Orchestra – An interview with Ladislau Cristian Andriș
Monday, 28 October 2019 , ora 11.52

Ladislau Cristian Andriș in one of the initiators of the Romanian Chamber Orchestra, an ensemble which reunites Romanians who play in the important international orchestras. The first three concerts of the ensemble, conducted by the reputed Cristian Măcelaru, will be held on the 1st of November in Arad, on the 2nd of November in Timișoara, and on the 3rd of November at Sala Radio. The tickets for the concert in Bucharest are available here.

In childhood, you had been learning to play the violin, but later, you moved to viola. As far as we are concerned, you have obvious influences in your family, mother - a teacher of violin, and uncle, who is also a musician. I'd like you to tell us more about this itinerary, from when you started playing the violin, to the point you left Romania, at the age of 18.
As you've already told, I'm coming from a family of musicians. I had been learning to play the violin with my mom, and then, with my uncle at the Musical Lyceum from Timisoara, until I left Romania. Why did I swap violin for viola? My cousin, who is also playing in the Romania Chamber Orchestra, is a sensational violist, and he is four years older than me. I had managed to get to the distinctive sound of the viola, thanks to him. Seeing how year after year he gets the first places at national competitions, I had become ambitious to play the same instrument, and transform the 'Cinderella' of string instruments into an instrument which would gain again the glow and solo potential.

You had been studying consecutively at Madrid, Freiburg, Lugano, and Hamburg, with renowned professors. How did you manage to face that workload, and specifically, how did manage to obtain everywhere the highest distinction diplomas - "Summa Cum Laudae"?
By my nature, I am a very ambitious person, and when I decide to get involved in a project, I want to squeeze everything out of it. That way I don't feel the fatigue. During a project or during my studies, I was so obsessed to do my best, that I didn't realize the amount of work I had done, but now, by calculating how many working hours there had been, and how many hours I had been practicing the instrument - 14-16 hours during the studies -I realize that, perhaps, this is not a normal thing for young men of my age, back then. I'd also like to clarify that, for instance, in the class of Wolfram Christ, who was the first violist of Berlin Philharmonic, we were ten students, and every semester, at least one of them was offered a job, be it at Berliner Philharmoniker, or at Gewandhaus Leipzig, and seeing this thing, that my colleagues, by working that hard, manage to play in the world's top orchestras, it becomes obvious that I wanted the same as well. Having this example right in front of me, it was very easy to stay on this road and to focus on the studies and all the things that would make me become a good violist.

Considering the variety of perspectives offered by the cities where you studied, as well as by the masterclasses you took part in, have you managed to draw a comparison between the way viola is looked upon in the Romanian educational system, and the way it is looked upon outside the borders respectively?
I don't think that it is a matter of how viola is viewed in West or in Romania, as it is a matter of the instrument's sound, because every violist wishes for another type of timbre out of his instrument. Some wish for a more nasal and dim timbre, other wish a luminous timbre, towards that of a violin, and others wish for a darker timbre, towards that of a cello. It is also a matter of the structure of the instrument.

From a professor's point of view, because you are also teaching, what does a musician need in order to earn an achievement?
First of all, a professor should also be a mentor, and then the student looks at his professor, the latter should see a model and want to become alike, or to surpass his professor, or search for a different approach, provided that he follows the same steps. I think that it's important that every student, from the very beginning of his studies, should have a way, and that his professor should show him this way, and what steps should be taken. It's like when we start for a journey and need a navigation system. We cannot say that we are going from Timișoara to Bucharest and don't know the cities we should go through. I think that that's the way a professor should teach, knowing every stop, and every recital, or concert, or competition, and where his student's place is, and what the requirements are for each of them.
An interview by Maria-Isabela Nica
Translated by Cotar Alexandr, Universitatea din București,
Facultatea de Limbi și Literaturi Străine, MTTLC Anul 1