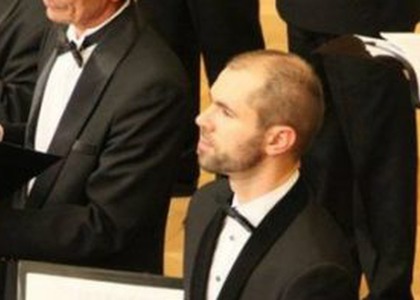 Interview with composer Dan Variu
Wednesday, 6 November 2019 , ora 9.46

His composition, MikroDivertisment, is performed for the first time ever by the Romanian Chamber Orchestra on the 1st of November in Arad, on the 2nd of November in Timișoara and on the 3rd of November in Bucharest at Sala Radio.

The Microdivertisment composition, written by you, will be performed for the first time ever by the Romanian Chamber Orchestra. We've heard you also won a prize with this composition.
Yes, that's true. Romanian Chamber Orchestra was thought by its founders, Cristian Ladislau Andriș and Alexandru Tomescu, as a project that would bring together young musicians, who showed their talents as instrumentalists in orchestras around the world, led by a great Romanian musician with an impressive international career, conductor Cristian Măcelaru. I thought that when they perform abroad, that they want to transmit not only that they are great musicians but also that they are Romanian. I wrote the first drafts of this composition as a student. At that time I was studying Bela Bartok, through works like The Six String Quartets, Music for Strings, Percussion and Celesta, The Miraculous Mandarin, Concerto for Orchestra, and of course the two works, Mikrokosmos and Divertimento, which also gave the title of my own composition. Finding out about the composition competition organized by the Romanian Chamber Orchestra, I thought it was a great opportunity to finish my composition, which, to my great delight, got selected. There were, as far as I know, 11 participants.

How would you describe Microdivertisment to the audience which is unfamiliar with contemporary music?
The composition takes its inspiration from Bartok and folklore. It aims to be largely accessible, even if it also contains some more complex musical aspects, like intense colorfulness, strong dissonances, imitations and augmentations, polytonalities, rhythmical asymmetry, but the main intention is that of accessibility.

What's your next project?
Right now I'm working on finalizing an opera, which I wrote with the occasion of the 100th anniversary of the Great Union, and which was performed at the Cluj-Napoca Opera. I intend to finalize and stage it in the future.
Interview by Maria-Isabella Nica
Translated by Alina-Nicoleta Duminică, Universitatea București,
Facultatea de Limbi și Literaturi Străine, MTTLC, anul II