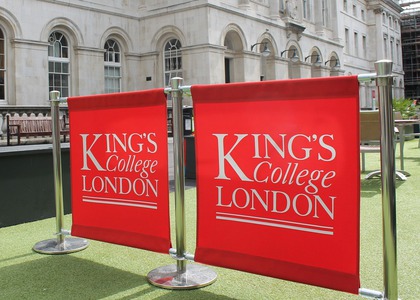 Interview featuring Geoff Browell and Magda Stroe on the Silvestri archive and dedicated event at King's College London
Monday, 11 November 2019 , ora 9.35

Geoff Browell, Head of King's College London Archives and Research Collections, and Magda Stroe, acting director of RCI London, introduced the event dedicated to Constantin Silvestri, at King's College London, on Saturday, November 2. The event consists of a recital by pianist AndaAnastasescu, video projections with and about Silvestri and a roundtable mainly focusing on Silvestri's personality. After the event,AndreeaKiseleff sat down with them for a discussion.

Mr. Geoff Browell, how did this project come to life?
In many cases, an archive sets the path for another.I was contacted by some friends of AndaAnastasescu, the one who owned the Silvistri collection, and I was told that they have an archive passed on by their parents, David and Barbara Stone, film producers, which they would be willing to offer us. They knew Anda Anastasescu and as one thing lead to another, I also became friends with her. I saw the Silvestri collection and her husband's, the late John Gritten, and I took it over. Here at King's College London we have military collections, as well as artistic or scientific ones. John Gritten had a military career during the World War II, as a journalist in Norway and Normandy. Therefore, along with the documents describing his military career, we also received the Silvestri archive.

How will the public be able to access this archive?
We are a public archive, therefore the access is free. We are opened on working days and the catalogues describing the content of the collections can be accessed online. The Silvestri catalogue will be available soon, starting from spring, and those who are interested will be able to register for a visit and for consulting this collection, as well as hundreds of other similar collections.
At the opening of the great Silvestri event in London, Magda Stroe, acting director of Romanian Cultural Institute in London, joined Geoff Browell with a speech:
At RCI London, the month of November is all about music. We begin with the event dedicated to Constantin Silvestri, marking the 50th anniversary of Constantin Silvestri's death, in 1969. This is an event produced through a partnership between RCI and "Constantin Silvestri" International Foundation, London Schubert Players Trust, Romanian National Radio's Music Channel, "George Enescu" Museum, and most importantly, King's College London, which came into possession of an impressive archive collection from both the "Constantin Silvestri" Foundation and the Bournemouth Symphony Orchestra. We have documents, photographs, scores, objects that belonged to Silvestri and we also have the promise made by King's College- Department of Archive and Research Collections that they will classify these materials and make it available to everyone interested in the art and life of the great pianist, composer and conductor.
Andreea Kiseleff
Translated by Iuliana Popa, Universitatea București,
Facultatea de Limbi și Literaturi Străine, MTTLC, anul I