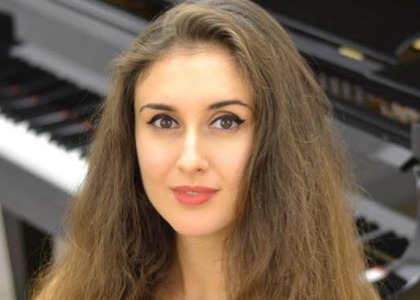 Interview with pianist Sînziana Mircea (II)
Thursday, 14 November 2019 , ora 9.14

Representing the new generation of pianists, Sînziana Mircea has an extraordinary instrumentalist career worldwide. Tokyo Metropolitan Theatre, St. Martin-in-the-Fields in London or Carnegie Hall in New York are some of the most important stages Sînziana Mircea performed on. Likewise, the young pianist comes back with great pleasure on Romanian stages, and the next event where we will be able to listen to her again is the concert on the 14th of November 2019 at Sala Radio. Sînziana Mircea herself will talk about this concert and other important moments in her career. This is the second out of three parts from this interview.

Do you have a special memory associated with a concert or a performance?
There are many. It's hard to choose from so many special moments, but maybe my first performance at Carnegie Hall three years ago, in a whole concert dedicated to the National Day of Romania, when I performed Enescu, Mussorgsky and Ravel. The hall was full and the public gave a standing ovation. It's probably the first moment that comes to mind spontaneously, but there are many other moments I am grateful for.

About your repertoire, it contains works by Mozart, Beethoven, Chopin, Brahms, Rachmaninoff and Shostakovich. Is there a composer you like more?
I would say I'm a romantic so I am mostly drawn to Romantic music. Now I'm in a Chopin mood, because I performed a lot of Chopin this year and I got close to his music again. I grew up with his music and I was always fascinated by it. Also, Rachmaninoff is probably one of my favorites, Tchaikovsky, mostly Eastern Europe, I'd say.

Until now your discography includes the record Nihil Sine Deo, released in 2016 at the Casa Radio Publishing and Unending Love, recorded in 2017 at Sheva Collection in Italy. What can you tell us about the atmosphere in a recording studio?
The atmosphere inside a recording studio is probably the best test you can go through with yourself, and also with the help of the team which is behind the production of the CDs. I still see my debut record, Nihil Sine Deo, as a miracle. The team was extraordinary, the Radio România Muzical team. Indeed, there were some amazing few days, then we recorded the second CD, Unending love, a very Romantic title. This was a different experience, it took place in Italy, in a historical villa. I was surrounded by a lot of old instruments which inspired me. I really wanted to perform Enescu again. It seemed to me the ideal occasion and when you are in front of the instrument and the microphone everything can be heard, even your breathing, and if you do something different from what you intended you can hear it 100 times louder so you need to be extremely careful about everything you do.

When we contacted you about this interview you were in New York to give a performance on the 3rd of November at the famous Carnegie Hall. How did that performance go?
Exactly. I was in New York for a few performances, among them the Golden Classical Music Awards Gala. The gala took place at Carnegie Hall and I won first place in this competition. It was extraordinary to come back on this stage, three year later, but other than this one there were other two concerts organized by the Romanian Cultural Institute in New York. The first one was a real rarity, as we performed Nina Cassian's compositions. I don't know how many of the listeners of Radio România Muzical know that Nina Cassian was both a pianist and a composer. We performed her compositions using the manuscripts for the first time ever. Indeed, a very unique and beautiful experience for me. Then there was the performance at Harvard Club, one of the most elitist clubs in New York, where only Harvard graduates can go. It was a private concert, with closed doors, but with great energy. The public was very pretentious, I've heard, but at the end there were standing ovations. Among others, they really enjoyed Paul Constantinescu's Toccata and this brought me great joy.
Interview by Vlad Ghinea
Translated by Alina-Nicoleta Duminică, Universitatea București,
Facultatea de Limbi și Literaturi Străine, MTTLC, anul II