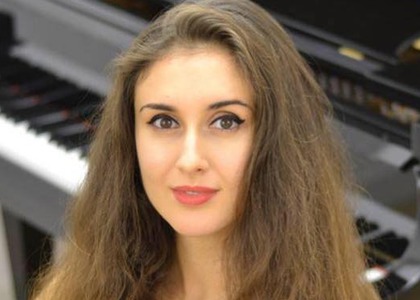 Interview featuring pianist Sînziana Mircea (III)
Thursday, 14 November 2019 , ora 15.18

Being a distinguished representative of the new generation of pianists, Sînziana Mircea possesses an extraordinary internationalcareer as a musician. Tokio Metropolitan Theatre, St. Martin-in-the-Fields in London, or The Carnegie Hall in New York are a few of the places where the audience could indulge in SînzianaMircea`s music. Furthermore, the young pianist takes great pleasure in returning on the Romanian stages, as her upcoming recital will take place at Radio Hall, on November 14, 2019. In the final part of the interview, SînzianaMircea will offer more details on this recital, but also regarding the highlights of her career.

On November 14, Radio Hall will host a recital which is part of the series called "The heirs of Romanian music". In this recital, you will be exploring the sounds of Chopin alongside guitarist Raisa Mihai and the soprano Amalia Lazarciuc. The "Imagine Chopin" tour will come to an end once the recital at the Radio Hall takes place. Can you tell us how the idea behind this tour came to life?
As a matter of fact, November 14 is my favourite date in the calendar already. Maybe the fact that my birthday is on November 12 has also something to do with it. I think this event is the most beautiful present I could ever receive. As I was saying, this year has been all about Chopin for me, since I actually started it by performing his musicin the concert organised by the Romanian Music Radio at Park Lake.After that, I was on a tour of nine concerts across Japan, also involving full recitals from Chopin.As I was preparing the Japan tour, I was thinking about how great Chopin is when it comes to solo piano, this part of him that he is famous about. But I was wandering what would it like be if I took him to another level? I see Chopin as more than he is for the rest of the people. So how could I express that through music? Therefore, I initiated this project, Imagine Chopin, alongside my friends and colleagues, Raisa Mihai and Amalia Lazarciuc, from MuseArt Academy, where we offer classes together. As an example, I combined the Vocalise from Rachmaninoff and the Bolero from Ravel with the Chopin`s music for piano and these new sounds were performed by a soprano, alongside a guitar and a piano. This is a very rare combination which I have never come across before. It may not be the only one, but it is very difficult to maintain a balance between these three instruments. So this is how the idea of the tour came to life. So far we had four concerts: one in London, at Steinway Hall and three in Romania, in Sf. Gheorghe, in Tg. Mureș, at the Philharmonic and in Bistrița, at the Synagogue. And for now, we cannot wait for November 14.

You mentioned the MuseArt Academy music school, which you founded in 2018. How would you describe your work as a teacher ?
The MuseArt Academy project is one very close to my heart, especially because I wanted to give back at least some of the knowledge that I received from my own teachers throughout time. I thought that maybe this way I could offer children or music enthusiasts a chance to study music by a playful approach.

After the "Imagine Chopin" tourwill be over, do you have other music projects scheduled?
There are two other recitals coming up, both dedicated to the National Day of Romania. The first one is also part of the "Imagine Chopin" series, being organized by the Romanian Embassy and the RCI in Stockholm.It's also important that this recital will take place at the Stockholm Philharmonic, where the Nobel Prizes are awarded. The second recital will take place right after, at the Conservatory of Music in Venice.
Interview by Vlad Ghinea
Translated by Iuliana Popa, Universitatea din București,
Facultatea de Limbi și Literaturi Străine, MTTLC, anul I