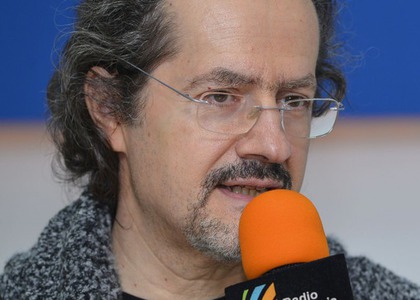 An interviewwith George Natsis
Thursday, 14 November 2019 , ora 16.07

The second concert of the Jazz Season will take place at the Act Theatreon Wednesday, November 13th, from 19:00. Entitled "Blackbird - Music of Beatles", the event will feature drummer Vlad Popescu, bass player Adrian Mircea Flautistu, as well as pianist and composer George Natsis, whom you will hear in the following interview.

On November 13th, you will be on the stage of the Act Theatre, for the second concert of the Jazz Season, entitled "Blackbird - Music of Beatles". How do you intend to reinterpret the hits of the famous British band?
Beatles songs are hard to sing. They seem accessible, some even very naive, but when you goa little deeper inside their content, you realize that they are not so accessible. It's a miracle how these pieces have survived and still stand. Their transformation, too, was not an easy one, because we are talking about jazz, on the one hand, and on the other hand, we are talking about songs whose personality you have no way of eliminating. They must maintain their personality. The public will certainly come to listen to the Beatles, not necessarily improvisations, and we have to offer this to them. With respect to how I considered toreinterpret them and how they have been transformed, I think it's better to let it be a surprise that both you and the audience will hear during the show. I think it will be a beautiful and well appreciated concert.

Together with drummer Vlad Popescu and bass player Adrian Mircea Flautistu, you form the permanent trio of the season. How did the trio come to life and how has it evolved in time?
Initially it was Vlad's idea, together with Cristi Soleanu. Back then, I did not think then that this project will last and here we are, we already have 10 years of jazz seasons, and after 10 years, most of our shows are sold-out.

As you already mentioned, like in the case of other concerts in the season, the tickets for "Blackbird" are already sold out. Why do you think that such a large audience is attracted?
I think there isthis atmosphere that they enjoy and I'm saying that because I can see their reactions while we perform. They like what they're hearing. I think it's some sort of chemistry. On the one hand, it's the chemistry between us, those performing on stage, and on the other hand, the chemistry between us and the public. The audience is generally the same. It's a steady audience. I met people who have come up to us and said that they were coming from the beginning of the season. They have missed very few concerts, which brings us great joy.

What events are next during the Jazz Season?
An event is coming up in December, which will be addressed, first and foremost, to the little ones. We are not talking about Christmas carols. We will announce it at the right time. I do not want to reveal what is the title of the next project. What I can reveal and what is already known, because it has become a tradition of the Jazz Season, is that February is dedicated to the great pianist Michel Petrucciani.
Interview by Vlad Ghinea
Translated by Irina Ștefan, Universitatea din București,
Facultatea de Limbi și Literaturi Străine, MTTLC, anul II