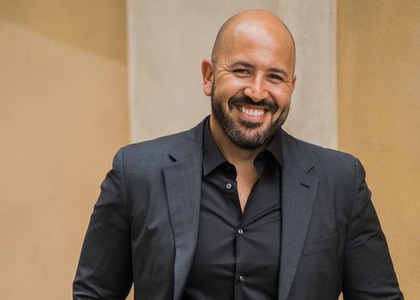 Interview with conductor Toufic Maatouk
Thursday, 14 November 2019 , ora 16.11

A vocal-symphonic concert of the Radio Chamber Orchestra, together with the Radio Academic Choir, will take place at Sala Radio. Toufic Maatouk will conduct the performance with works by composers such as Wolfgang Amadeus Mozart and Gioachino Rossini.

How did rehearsals go?
Rehearsals went very well, considering we're dealing with a new composition both for the musicians in the orchestra and the choir. It's a great pleasure for me to work with these two ensembles. I say that rehearsals went very well because I communicated extremely well with the musicians and the results are good - I hope they will show during the performance.
We will start the evening with compositions by Wolfgang Amadeus Mozart, one of my favorite composers. I always conducted his operas with great pleasure. We will have some fragments from these operas. Then you will be able to listen to the complicated 'Messa di Gloria' by Gioachino Rossini. I call it complicated because, as I told the members of the orchestra, there's no unity in this work. You can hear in it Rossini's earlier style, his later style and some Mozart influences. The great difficulty of this work comes from its lack of unity - you have to give each composition its necessary character. I conducted other sacred music compositions by Rossini, all of them having more unity than this one. I say these things because Messa di Gloria has, just like Stabat Mater, very beautiful arias.
What can you tell us about this evening's soloists?
I am impressed because I usually work with renowned soloists - even thought I have worked with young voices, those that are still developing, at the Opera Academy in Paris, for instance. There I met tenor Juan de Dios Mateos. I think we'll have a very good distribution this evening, both for Rossini and Mozart. The mezzo-soprano Antonela Bârnat is very good, I appreciate her voice very much. The second tenor of the evening is Stefan von Korch, a very good voice. Both tenors collaborate very well and work very well together with the basso Cătălin Toropoc. I had the pleasure to work with soprano Elena Monti before for performances of Wolfgang Amadeus Mozart's and Gioachino Rossini's operas.
Interview by Petre Fugaciu
Translated by Alina-Nicoleta Duminică, Universitatea din București,
Facultatea de Limbi și Literaturi Străine, MTTLC, anul II