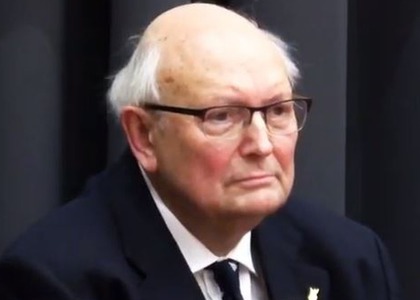 The violinist Brian Johnston- memories about Constantin Silvestri
Monday, 18 November 2019 , ora 9.58

The violinist Brian Johnston became member of the Symphonic Orchestra from Bournemouth in 1962, when Constantin Silvestri was principal conductor of the ensemble. He was invited to the event dedicated to our musician at King's College in London on 2nd November. Then he shared some memories with our colleague, Andreea Kiseleff, about a visit to our capital and about the collaboration with Silvestri in Bournemouth.
I sang in Bucharest too in 1990 in a small orchestra. I lectured at Conservator with a chamber composition from the English repertoire. The musicians were very good, but it was very difficult for them to sing together in an orchestra. One of the best of Silvestri's compositions is the String Quartet no.2 and I remember that 10 years ago I went to the Embassy and it was sung there. It is a magnificent, very difficult composition.

The opportunity of having a dialogue with you, sir, is extremely interesting because a lot of us did not have the chance of meeting Silvestri.
He had a multi-faceted character. He was an extraordinary man. For him music was the most important thing. He was very anchored in the spirit of the music. And what concerns the English music as well. I have never forgotten him. The fact that I watched the movie about him here brought back so many memories. He also had a sense of humor. At first he did not talk English language too well and I could not understand all the time what he was saying, but he worked very profoundly many times until midnight. He knew the scores very well and the sound of a full orchestra. He knew how to achieve that and he knew what he wanted from music. He rehearsed a lot, but every concert was different. I remember that we had in our program a symphony by Brahms in a tour in the north of England and the longest recording was 6 minutes longer than the shortest one. That's a lot! The biggest difference probably was in the slow part, but it is still a lot! Some might have thought Silvestri was not very good, that he was a little unprofessional, but it is not about that at all. The repetitiveness is the enemy of music and this was not the case for him. It was a pleasure for me to attend at this Silvestri event, to see some people that I had not seen for a while again, to watch the recordings with Silvestri and the movie about him and to meet you, the ones who came here in London from Bucharest.
Interview by Andreea Kiseleff
Translated by Țîru Mălina Roxana, Universitatea București,
Facultatea de Limbi și Literaturi Străine, MTTLC, anul I