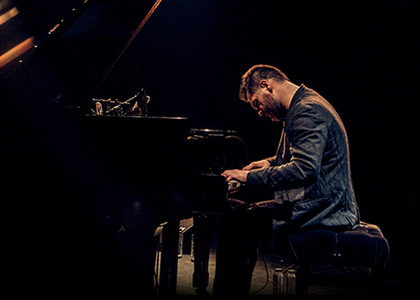 Oedipe Redux – Interview featuring Lucian Ban
Monday, 25 November 2019 , ora 12.08

Between 19 and 29 of November , within the Europalia Belgian festival, the Romanian jazz pianist Lucian Ban introduces his project, Oedipe Redux, inspired by George Enescu`sOedipe.

What is the meaning of Oedipe Redux and how did the idea behind this project came to life?
Oedipe Redux is a reinterpretation of Enescu`s composition, intended for an octet of jazz musicians, which I made together with the American violinist Mat Maneri. What we did was to reimagine the Oedip composition of Enescu for this specific purpose, so that it could merge with the concept of contemporary jazz and improvisation.For a long time, I`ve been wishing to get more familiar with the vocal music of Enescu. Ten years ago, at the request of the Enescu Festival representatives, I made a project called Enescu Re-Imagined, in which I reimagined compositions from Enescu`s instrumental creation, starting with the Sonata no. 3 in Romanian folk style, going on to the Suitesdans le style ancien, the Orchestral Suite no. 1 and finishing with fragments of Symphony no. 4; that was also a composition for an octet of musicians, which were all Americans. After its debut within the Enescu Festival in 2009, that project was edited by a record label named Sunnyside Record in 2010, under the name "Enescu Re-Imagined" and it has won multiple awards since then. We also went on a series of international tours across America and Europe with this project. Having seen that Enescu`s music is so suitable for improvisation, I realized that I would very much enjoy reinterpreting the greatest composition of Enescu. Last year, the France - Romania Season gave me the opportunity to do so.

Regarding the premiere of this jazz reinterpretation, which took place at the Lyon Opera House on December 5, last year, could you tell us how did the audience react to it?
The premiere was sold-out, it got a standing ovation… we had a producer, there were promoters that came from all over Europe and this year we are on an European tour, performing Oedipe Redux on high-profile stages. For example, Bozar, in Bruxelles, or the Jazz Festival from Strasbourg, which is one of the most well-known festivals of this kind in Europe. Next week we will be in Luxembourg, in Dudelange, at one of the great centers of performing arts, Opderchmelz.There is a growing interest for Enescu`s music. Perhaps Menuhin was right by predicting that the 21st century will be Enescu`s century.

You will perform within an ensemble of well-known jazz musicians. How do they feel about Enescu`s music?
They love Enescu`s music and they are amazed by the way it lends itself to improvisation. Oedipe Redux is an octet with two singers - both of them finding themselves at the border between contemporary music and jazz music: Theo Bleckmann, for the role of Oedipe and Jen Shyu, an American singer of south Asian origin, which adds the flavor of Asian technique to her singing. Somehow, they were the perfect choices for Oedipe Redux. Then we have Mat Maneri, my partner in re-writing Oedipe Redux, Ralph Alessi on the trumpet - one of the most acclaimed modern jazz trumpeters, John Hebert, the co-author of my first project, Enescu Re-Imagined, the contrabassist John Hebert, regarded as one of the greatest modern jazz contrabassists, the drummer Ton Rainey, and from France, we have the bass clarinetist Louis Sclavis. So, in a way, this is an international, global project. The challenge for us consisted of choosing the musical parts that we enjoyed the most and that seemed to be the most suitable for improvisation, keeping the consistency of the dramatic thread and, in the same time, being true to ourselves and what we are as artists. We are not classic music musicians; we are jazz musicians, we improvise. We have to adapt Enescu`s creation to our way of doing things, make it speak our language, but also maintain the genius of the original creation and pay tribute to it. This is the challenge we constantly faced.
Interview by Petre Fugaciu
Translated by Iuliana Popa, Universitatea București,
Facultatea de Limbi și Literaturi Străine, MTTLC, anul I