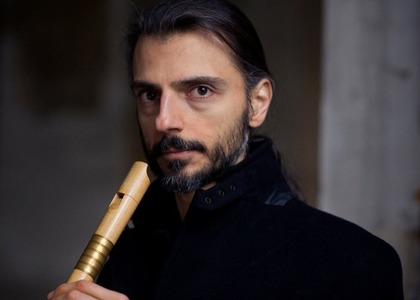 Interview with flautist François Lazarevitch
Monday, 25 November 2019 , ora 12.50

You are in Romania for the third time, following your participation at the Old Music Festivals in Timisoara and Miercurea Ciuc. In your opinion, how has the old music phenomenon evolved in our country, considering these series, as well the implication of the audience ?
Yes, it is my third visit to Bucharest and up to this point I have encountered an audience that is extremely interested in the music we propose and in our own interpretation of that music. In Timisoara we met other flautists and, after the concert, we put together a mastery course. It was a delightful meeting, a change of experience, in fact, during which we discussed the singing style, the sources. In Miercurea Ciuc I was even more impressed by the public, a curious one, open to the new and exceptionally welcoming.

How much did you know about the Old Music Festival in Bucharest and what are your thoughts on this year's program ?
I find myself compelled to confess that until approximately two months prior, I did not know much. Laurentiu Constantin, the director of the festival, contacted me, we met in Paris and he presented me the project.

During the Bucharest concert, you will perform together with harpsichordist Justin Taylor, member of the ensemble you lead - Les Musiciens de Saint-Julien - and you suggest a program with the music of Carl Philipp Emanuel Bach. To some extent, the aforementioned songs are dedicated to King Frederick the Great; what was the reason behind your choice ?
Johann Sebastian Bach's Sonatas were one of my first recordings, I released a disc with this wonderful music. And I desired to follow the same path, of the important flute repertoire. That is how I came across Carl Philipp Emanuel Bach; I performed his concerts as well. Simultaneously, I also did research; I have searched for every treaty on this subject and I even found a manuscript, not a well-known one, but a crucially important nonetheless - the one with the Solmizations dedicated to Johann Joachim Quantz, that contains a series of information on how to articulate, how to play the music written during that time at King Frederick II of Prussia's court. I choose to present this repertoire each time because this is how I get to present all this research work as well. In Carl Philipp Emanuel Bach's music we encounter, to a certain extend, the origin of romantic music. Some works, as the Sonata in B minor, which we will be playing in Bucharest, is close to his father's music, others have a classical style, but with certain elements later encountered in Romanticism. Likewise, we will also have solos, and I will be playing the well-known Sonata in B minor, one of our important songs from our flute repertoire. It is a remarcable song and we are more than happy that we have been offered the chance to present it to our Bucharest audience.

Will there also be a Les Musiciens de Saint-Julien concert in Bucharest in the near future?
We have nothing planned at the moment, but we will gladly accept any invitation. We are working on several large projects for next year, opera in concert - Acis and Galatea by Georg Friedrich Händel is one of the titles - as well as the Brandenburg Concertos by Johann Sebastian Bach, so, judging by the program, we can bring something interesting to the table.
Until then, I have to say that I am glad to discover this festival and its public. I have the opportunity to evolve alongside a marvellous musician - Justin Taylor and I hope that the audience will be delighted with our version of Carl Philipp Emanuel Bach's music.
Lucian Haralambie
Translated by Drangoi Ioana – Alexandra, MTTLC -Anul I,
Facultatea de Limbi și Literaturi Străine Universitatea din București