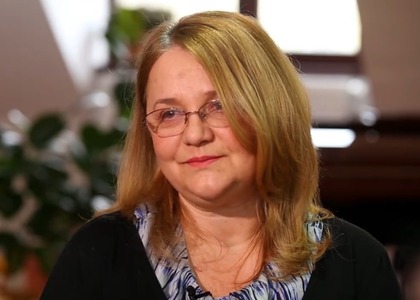 Interview with teacher Ani Paladi
Wednesday, 27 November 2019 , ora 13.14

Between the 11th and the 15th of November the 8th edition of the he "David Popper" International Cello Competition was hosted in Várpalota, Hungary. Among the winners there were Aida Popa (second place), Ștefan Iordachi and Julia Coteanu (third place), all of them pupils of cello teacher Ani Paladi, who gave us the following interview.

We were very happy to hear that among the winners of the "David Popper" Competition there are three Romanian cellists. How did you prepare for this competition?
Firstly, I'm very glad we were able to participate in this competition, which is a very difficult one and we returned home with nice prizes. Maybe not the greatest, as we didn't get first place. I haven't been to this competition in 10 years when I went with Andrei Ioniță who won first place. Back then we decided to go when there wasn't much time left to practice, so the period was quite short since the beginning of the school year. The children we met there were all from outside Europe and they were very well prepared, all of them were from Asia: Korea, China, Malaysia, Hong Kong, so we were the only Europeans.

What was the atmosphere like during the competition?
The atmosphere was very tense. I was very nervous; there were plenty of rehearsals and the competition was serious, the children were very good at their instrument, motivated, but we weren't less than that. I mean we tried and I would say we succeeded. Our children made a good impression, they performed very well, having more normal repertoires for their age I would say, closer to what they could do technically, but they played them very well indeed.

Could you talk about the evolution of each child?
Of course. I don't want to make any differences between them. They're very close in age, they participated in the same category, that of children between 9 and 11 years old. Firstly, Aida Popa who is currently in 4th grade and Ștefan Iordachi and Julia Coteanu who are currently in 5th grade, all of them are extremely talented, hardworking, they already have experience on stage, they have participated in competitions in Romania for years. They've been studying cello for 4 years already and took part in these various performances here, so they could control their emotions and feel at ease in the competition environment.

Their amazing results wouldn't have been possible without your great teaching. What is important when you work with children?
The results were possible after long hours of work. There is a special bond between me and the children. Firstly, it's very important that the teacher and the children are close, that the communication is good, open. We worked a lot, as if we were going to a sports competition. The children are very talented, receptive, they love music, they love the instrument, already having some experience on stage, having participated in many competitions. They managed it very well, but I want to emphasize we were a team, the children and I. I would also want to mention the other teachers who helped us during rehearsals and preparations for the competition, pianists Raluca Iordache and Tiberiu Chirănuș. Professor Marin Cazacu also encouraged us a lot and told us we need to fight until the end.
Interview by Vlad Ghinea
Translated by Alina-Nicoleta Duminică, MTTLC - Anul II,
Facultatea de Limbi și Literaturi Străine Universitatea din București