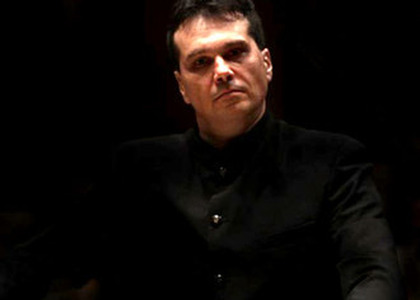 Interview with conductor Radu Popa
Thursday, 5 December 2019 , ora 14.46

On Wednesday, December 4th, from 7.00 p.m., the Radio Chamber Orchestra will give a concert with the theme "The Music of Old Bucharest". Arrangements by Ioan Dobrinescu will be performed during the concert and the conductor will be Radu Popa, whom you will listen to in the following interview.

The concert on December 4th has a very rarely seen theme: the Music of Old Bucharest. We are curious to discover the nature of the pieces which you intend to bring back.
First of all, I want to thank the Romanian Radio Society for inviting me to conduct this concert of the Radio Chamber Orchestra. It is an honor for me, as always, to be in the company of my colleagues in the orchestra and this time, I have the joy and the pleasure, to conduct Romanian music, but a different kind of Romanian music. The music of Bucharest in the inter-war period gives some names, which, for sure, sound familiar to those who, we might say, are past their prime. Those names are Ion Vasilescu, Gherase Dendrino, Ionel Fernic and through the skill of my friend, Ioan Dorbinescu, who orchestrated many of these works, the audience has the opportunity now to see them performed. It is a great opportunity, I'd say, for the audience, to listen to these works being performed live, because we all know them from the recordings of that time. Now we have the opportunity to listen to them somewhere, and I think, this date, December 4th, honors the celebration of the National Day, by being a Romanian music concert, an absolutely splendid kind of music, with nuances of the past, which I hope to be able to give back to the listeners and, at the same time, to create the thrill of those times.

What's the atmosphere during rehearsals with the Radio Chamber Orchestra like?
Always very good. It's a great working atmosphere, professional, first of all, collegial, because we have known each other for a long time and our collaboration has been going on for over 20 years.

As you have collaborated with numerous ensembles here and abroad, have you noticed differences in how you work with them?
Of course. Each orchestra has its own metabolism. Each ensemble has, first of all, a specific sound and the conductor is the one who has to adapt to this sound, because I am convinced that the conductor must give the orchestra or, better said, to create through the orchestra, an identity.

What other upcoming events do you have planned?
The biggest event of my life is that now I'm waiting for our little girl to be born. And in the upcoming days in Timisoara there is a premiere that I will conduct, on December 20th, and that is the whole Händel Messiah. So far, only selections from this piece have been performed. This time we will try and perform the whole of it.
Interview by Vlad Ghinea
Translated by Alina-Nicoleta Duminică, Universitatea București,
Facultatea de Limbi și Literaturi Străine MTTLC, anul II