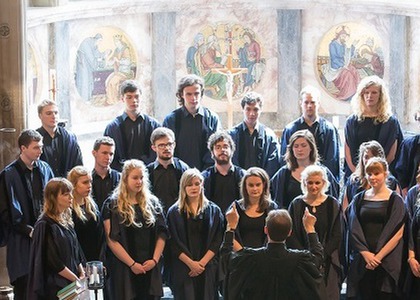 Interview with Andrew Noble, the U.K. ambassador in Bucharest
Monday, 9 December 2019 , ora 10.27

On December 9th, Sala Radio hosts a concert organized by the British Embassy in Bucharest: an English-style Christmas, with performances by the Vox Medicalis Choirs from Romania, choirs conducted by Tudor Ionescu, and the Gonville and Caius College Choir from Cambridge, the U.K. Concert tickets are available here.

Your Excellency, Ambassador Andrew Noble, welcome to our studio!
I'm very glad to meet you! It's a great pleasure to be here.

Shortly before the winter holidays, the Gonville and Caius College Choir from Cambridge is doing a concert tour. Did you come up with the idea of this tour?
Yes and no. Personally, I didn't sing in this choir, but it is my college, and also my son's, who sang in this choir. But I started singing only when I was sent as a diplomat here in Bucharest in the 1980s. So I have a close connection with this choir, but especially with the college. It is my idea because based on my experience with my son, and also the widespread reputation of this choir, I know it is of impressive quality and I wanted my college ensemble to come to this country which is very important to me. So, to see my college in a country where I feel at home is like a dream to me; and it all happens at Christmas time, it is even more beautiful.

They will sing carols, I think.
Yes, but also some pieces from the repertoire they had during the second founding of the college, so from the 16th century, Renaissance era.

Also, thank you very much for the CD you sent us here, at Radio România Muzical. I listened to it and although I know that this choir doesn't have a professional status, being an amateur choir, it sounds great. Do you have any idea if one of the members of this choir is studying music or is it just a passion, besides university studies?
I would say that half of the members are students of music in Cambridge, the age of those who make up the ensemble is between 18 and 21 years old. After that age you are no longer allowed to be a member of the choir. They are very young, they are amateurs, but the music is professional. And the choir management is absolutely professional. You know that, in general, the choirs at Cambridge and Oxford have this status, a mix of professionals, as well as the conductor and the members, who will not necessarily have a future career in music, but this choir has had many successes.

In Romania they will perform in Brașov and Bucharest.
Yes, in Sibiu as well.

What will they sing?
In Brașov they will perform the first and second part of the Christmas Oratorio by Johann Sebastian Bach and some Christmas carols. In Sibiu they will perform the basic repertoire, music from the Renaissance period and carols. We hope they will sing at some monasteries on the way, because this tour will be an introduction to the beauty of the country and I hope they will also sing at Cozia and Sâmbăta de Sus. And it is very important to know what a fortified church is, so I hope they can also sing at Cincșor and at the Black Church in Brașov. They will also sing at the Anglican Church in Bucharest.

And here in Bucharest, will they perform together with another choir, Vox Medicalis?
This will happen here, at Sala Radio.

I've heard that your daughter is also part of Vox Medicalis. Is that true?
Yes, indeed.

Are you a family of singers?
Most of our children sing, yes. I have two girls and two boys. One boy does not sing at all, one was in the choir and the other girls sing very well.

Will this CD - Dormi Jesu also be available at the end of the concerts? Can it be purchased?
Of course. There is also a second CD from last year, with Christmas music, and it includes only French carols. This choir has a reputation for singing lesser-known pieces. Christmas carols will be either in new versions, or carols we do not hear every year. This is not a choir that does something just to pass the time, it's an integral part of the college life. The college was established in 1348.

I've read that it is the fourth oldest in Cambridge.
Exactly. And the second foundation was by Caius (Keys), who was the king's doctor. This is why Renaissance music is present in their repertoire. Music is created every year and for the creation of contemporary music, choirs like Caius are very important. In the recordings on their CDs there is also a lot of contemporary music and old instruments being used. So, recently, a CD with an instrument called cornex, found only in ancient history, in the United Kingdom and in the other provinces of the Roman Empire, has made an appearance. So, you might have heard this kind of music in the second century in Romania.

Is there a fixed number of choir members or does it vary from year to year?
There are usually 24 members, divided into the four voices. Students need to find a place for study - the academic level has to be the highest - and then there are auditions for the choir, and the level is professional.
Interview by Irina Cristina Vasilescu
Translated by Alina-Nicoleta Duminică, Facultatea de Limbi și Literaturi Străine,
Universitatea din București MTTLC, an II