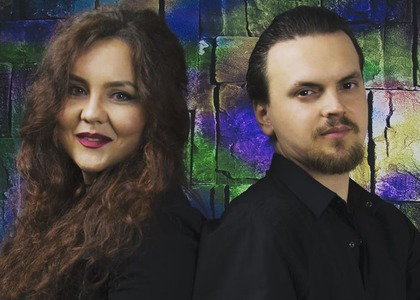 Alexandra Petrișor Interview
Tuesday, 17 December 2019 , ora 14.41

You're participating at this year's Calcutta International Classical Guitar Festival in India. Is this the first time you are going to play in Asia?
It's the first time we're travelling to Asia, and we're awfully happy to have a chance to participate in a guitar festival. It's interesting that we've reached Calcutta. We're really honored for the fact, that it's the first time when Romanian music will be played at this festival. We'll interpret works by Bartók, Mikuli, Dinicu, Ivanovici, in our version for two guitars, along with the compositions by Joaquín Rodrigo, Astor Piazzola, and Frédéric Chopin.

How will the festival unfold, and how many countries will be taking part in it?
There will also be the International Classical Guitar Competition in this year's edition, a competition having a Spanish theme, in a sense that all the contestants will have to interpret a Spanish work, and the winner will have to go to Spain, and give a performance at the Cordoba International Guitar Festival. We're really pleased to take part in both the jury and the masterclasses. We had a chance to listen to some of the guitarists, and we can firmly assert that their level of playing is very high. I'd like to mention David Russell amongst the guest artists, the winner of the Grammy Award, and the one who will open the series of concerts of the Festival. What I can say about the rest of the artists, is that they are world-renowned. There will be the ambassadors of the guitar from Spain, Portugal, Brazil, Argentina, Croatia, Czech Republic, and Australia. There will be classical guitar, flamenco, Portuguese fado, and Argentinian tango concerts.

This year, Duo Kitharsis celebrates its tenth anniversary. How would you describe, broadly speaking, these years, and what projects will follow?
2019 is a very special year for us. We are celebrating by giving concerts. We started the series of concerts under the name of "10 Years of Duo Kitharsis" in February when we performed at The Șuțu Palace. The Bran Castle followed, then a little journey through Poland, and after this, we got Spain, at the "City of Elche" Guitar Festival. We had a recital at Brussels last week while being invited to the guitar concert series of the radio station, which is dedicated to this. It's called "Dans Les Cordes". And now - India! We're heading to Shillong in a few days. We're invited to the Shillong International Guitar Festival. There we'll play, give masterclasses, participate in workshops. As I was saying earlier, we're celebrating ten years of Duo Kitharsis through a project dedicated to Chopin, which we really adore. We'd also like to announce the release of the second CD, dedicated to the works of Chopin, in our interpretation and vision for two guitars, for which we had chosen, probably, the most beautiful works of our beloved composer.
Interview by Maria-Isabela Nica
Translated by Cotar Alexandr, Universitatea București,
Facultatea de Limbi și Literaturi Strãine, MTTLC, anul I