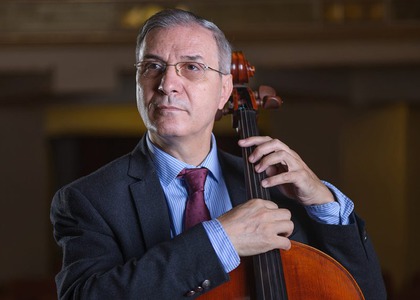 Interview with cellist Marin Cazacu – soloist of the Romanian Radio Chamber Orchestra
Friday, 20 December 2019 , ora 11.49

The Radio concert season will continue tomorrow, the 18th of December, with a symphonic concert, which will bring together the works of Constantin Silvestri, Antonio Vivaldi, Georg Friedrich Händel, and Ludwig van Beethoven.
The 2019-2020 Season of the Romanian Radio Chamber Orchestra has a symphonic concert scheduled for tomorrow, the 18th of December, which will have Marin Cazacu and Răzvan Suma as soloists. The rostrum will be taken by FerencGábor - a Transylvanian conductor.
The details concerning the event unfoldment were offered us by cellist Marin Cazacu.

Wednesday, on the 18th of December, you will be the soloist of the two concertos by Antonio Vivaldi and Georg Friedrich Händel, for two cellos and orchestra. How would you describe these works, relating them to a stylistically mixed programme, completed by the Three Pieces for Strings by Constantin Silvestri, and Symphony No. 1 by Ludwig van Beethoven?
The two works match perfectly with the rest, because both Vivaldi and Händel are renowned composers, probably, the most renowned composers from the baroque period, alongside Johann Sebastian Bach. Vivaldi's Concerto for Two Cellos is an original work, which had been designated for two cellos, and orchestra, and the second work is an arrangement from a concerto grosso, with two solo violin obbligatos. And so, it was transcribed in a version for two cellos, by our colleague, Bogdan Vodă. It will a pleasant revelation for the Bucharest public to discover such wonderful music, in which the two cellos will be mutually trilling and interchanging their feelings and poetry.

What could you tell us about the collaboration with FerencGábor, the conductor of the Romanian Radio Chamber Orchestra, and also about Răzvan Suma, the one you'll be playing alongside, tomorrow?
Since I know Răzvan Suma very well - he also being my student from 20 years ago, and who is a notable name throughout Romania, and the soloist of Radio orchestras - we have an exceptional understanding. It has always been like this. Having this occasion to meet Ferenc Gábor is an amazing discovery because he's a talented conductor, with an extraordinary cultural openness, and outstanding education. Even though he was born in Transylvania, where he'd studied in Cluj in the lyceum period, he then continued his studies in Tel Aviv and Berlin. He's spent the last few years in Berlin, a capital city with marvelous cultural resonance. What he's offering to both the orchestra and us, the soloists, is exclusive.

What other projects will follow in the 2019-2020 Season, and what are you planning for the Violoncellissimo ensemble, which you're coordinating?
My own career, both as orchestras' soloist and chamber music interpreter, continues, as much as possible, with such concerts. The things regarding the Violoncellissimo ensemble are, indeed, going very well, mostly because it's an ensemble that conquers and convinces. Just after the New Year's celebration, we're heading to a festival in Istanbul. There are concerts which will follow in a short while, both in Bucharest and abroad. So, as you can see, it's a very intense activity, which will not let me leave my cello for a second.
An interview by Ana-Maria Cazacu
Translated by Cotar Alexandr, Universitatea București,
Facultatea de Limbi și Literaturi Străine, MTTLC, anul I