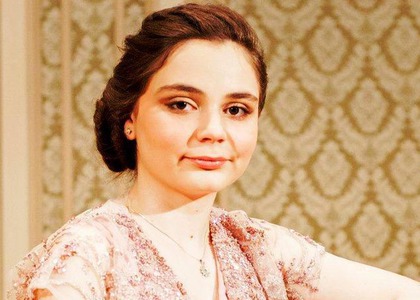 Interview with pianist Daria Tudor - IMO Duo
Wednesday, 15 January 2020 , ora 15.44

On Tuesday, 14th of January 2020, the pianist will perform a recital together with the cellist Constatin Borodin, at the Small Hall of the Romanian Athenaeum. The two instrumentalists, pianist Daria Tudor and cellist Constatin Borodin, will perform Beethoven's 7 variations on the theme "BeiMännern, welcheLiebenfühlen" from the opera The Magic Flute by Wolfgang Amadeus Mozart, Sonata no. 1, in E minor, op. 38 by Johannes Brahms, the Funeral March from Sonata no. 2, op. 117 by Gabriel Fauré and Sonata in D minor, op. 40 by Dmitri Shostakovich. In the following interview, you will be able to listen to pianist Daria Tudor.

Together with cellist Constantin Borodin, you will explore several universes of sound, in works by Beethoven, Brahms, Fauré and Shostakovich. What made you choose these opposites?
I will render the repertoire from two perspectives and I will start by saying that it is Beethoven's year, so, of course, we will open the recital with a work by Beethoven, and the whole program has been built around the seven variations of a theme from the Magic Flute by Mozart, that is, we tried to find a diverse repertoire of composers who had and expressed their opinion regarding Beethoven. So we went to Brahms, who at one point was asked: "you used a theme, which resembles a theme used by Beethoven. Why?""Of course I used it. Everyone steals, only you have to do it brilliantly". Then about Fauré, I only decided on the second part of Sonata no. 2. Why? Because, in fact, it was commissioned by the French government from Fauré, for the 100th anniversary of Napoleon's death, and Shostakovich always respected Beethoven's revolutionary spirit. In addition, we wanted to end the program with the Sonata by Shostakovich, because it is the first work we performed together as a duo.

How did this duo project start?
There is nothing complicated behind this duo, we just met in Berlin, I was a student there, Constantin, came there with an Erasmus scholarship and we met, we formed a duo. And that was it.

How would you describe the artistic connection between you and Constantin Borodin?
There is a link that just worked, because otherwise, the "MihailJora" Competition from March last year would not have happened either. He's a stage partner I can count on. He is a man with whom you enjoy to practice and I hope, for me, it is also very important that he has a good sense of humor.

What other projects are you preparing for the next period?
I have a few other projects on my own, but I think it would be appropriate to talk about the duo and, in other words, we will have a recital at the French Embassy, ​​an invitation which we received following the prize from the "MihailJora" Competition and then, of course, some projects in Berlin, at the faculty. The duo is somehow only at the start, although it is already a year old. It is a bit difficult to manage at the moment because Constantin is in Bucharest at the moment and I am in Berlin, so there are only a few projects, but, hopefully, they are interesting enough.
Interview by Vlad Ghinea
Translated by Alina-Nicoleta Duminicã, Universitatea București,
Facultatea de Limbi și Literaturi Strãine, MTTLC, anul II