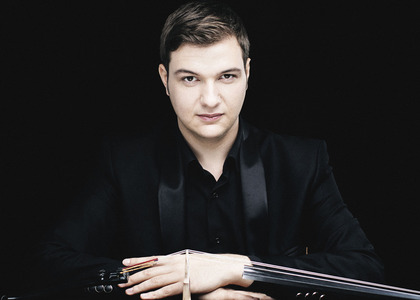 Interview with cellist Andrei Ioniță
Monday, 27 January 2020 , ora 10.08

Andrei Ioniță, you are a resident artist of the Hamburg Symphony Orchestra for the 2019-2020 session. What were the steps that led to this status?
I first collaborated with the orchestra in 2017. The conductor at that time was Sylvain Cambreling, who has now become their principal conductor and artistic director. We got along with each other very well since the very beginning. Last year I performed the Dvorak Concert with Ion Marin and I remember that in the winter of 2018-2019 I received a phone call from the orchestra intendant asking if I would be willing and if I had time to take up this position as artist in residence of the Hamburg Symphony Orchestra. I accepted with great pleasure and from January this year until June I will perform quite often on the stage at Laeiszhalle in Hamburg and we will even have a concert at Elbphilharmonie.

What does this collaboration entail?
As an artist in residence you are invited to perform several concerts as a soloist with the orchestra during the session and also to organize chamber music concerts. Last Sunday (the 12th of January) I had a recital together with my pianist, Naoko Sonoda.

You anticipated my next question. I was going to ask you to tell us about the chamber recital at Laeiszhalle, in which you performed together with Naoko Sonoda.
The Romanian public has already met Naoko (Andrei Ioniță performed with Naoko Sonoda on the 15th of April 2019, within the Radio RomâniaMuzical project, "MoștenitoriiRomânieiMuzicale"). We performed together in Cluj and Bucharest. It was a great experience, even though a difficult one. The concert was scheduled at 11 a.m.; I started with the Sonata solo by Kodály, a very important piece - it can be described as one of the basic works of the solo cello repertoire, a work I have also recorded for Oblique Strategies. It's a great pleasure to perform each time. To give a recital is a different experience from a concert as a soloist with an orchestra, because you have much more time to express your artistic view.

Tell us more about the five concerts you will have with the Hamburg Symphony Orchestra.
I wanted to highlight a repertoire which is as versatile as possible. I will be performing concerts by Vivaldi and Carl Philipp Emanuel Bach, Prokofiev's Symphony-Concerto and Tout un monde lointain by Dutilleux. In addition, we also had a year-long opening concert with the Rococo Variations by Tchaikovsky. It is a very interesting program and I invite all those who are interested, or even the Romanian diaspora in Berlin, Hamburg, northern Germany to come and listen to the concerts.

What other musical projects will you have in the future? Are you planning a new album?
There are some plans for new recordings, but I will announce them all in due time. In addition to these concerts in Hamburg, another tour in the United States is coming in February, with both recitals and concerts together with the orchestra, as well as other concerts in England, at the Dresden Philharmonic, a charity concert for orphan children in Transylvania, together with Daria Tudor and Mihaela Martin, in Bonn, and so on.
Interview by Alexandra Scumpu
Translated by Alina-Nicoleta Duminică, Universitatea București,
Facultatea de Limbi și Literaturi Străine Anul II - MTTLC