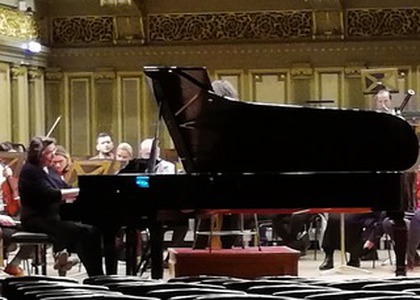 Elisabeth Leonskaja - soloist in the Beethoven program at the Athenaeum
Monday, 10 February 2020 , ora 10.18

Elisabeth Leonskaja, the pianist who won the "George Enescu" International Contest at the 1964 edition, before turning 19, surprising a jury made up of great personalities of musical life everywhere, returns to the "George Enescu" Philharmonic station, in a concert with a full BEETHOVEN program, under the baton of conductor Horia Andreescu. Two weeks prior, the ICMA jury announced that the "Lifetime Achievement Award" will be awarded at the gala ceremony in Seville to this artist with an impressive career and intense concert and chamber activity, which continues for decades on the most diverse of meridians. After the first rehearsal for the concerts on February 6th and 7th, the pianist was kind enough to accept a short interview.

Once again at the Athenaeum and yet again with Beethoven ... a reunion under the sign of interpretive friendship. After the Imperial heard last September (within the "Enescu" Festival), now Concert no.2. Could this be a continuation, a resumption of your vision of this composer?
In any case, it is not a repetition because it is now a completely different work, an early creation of Beethoven. It's not "less brilliant" at all, but it's another world! I would say - metaphorically - that he is like a young puppy that enjoys life! In fact, a young genius trying his powers during the realization of this opposite! As has been known for many years, here - at the Athenaeum - I become very sentimental when I return after a long time. My mind is flooded once again with the images from 1964, when I received the prize here (first prize at the "George Enescu" International Competition n.red); meanwhile this sentimental note has faded because - fortunately, to my great joy - I have returned much more often in the present period; I am joyous every time, I am very fond of Bucharest and especially this room, so beautiful, with its stage and its audience that always gives you confidence and leaves me under the impression that it is always hungry for music!

Indeed, the audience here is looking for GOOD music, well performed music! Do you find this Concert no.2 to be younger than the one that carries the number 1, knowing that the one in Major A no. 1 was developed later?
I would say that from a compositional point of view these two works have a totally different character. But it seems to me personally that the second and third concerts belong to a similar category: it is the way the orchestra follows the soloist, the manner of accompaniment itself.
From the perspective of the character, Concert no.2 may be closer to Haydn, although one can observe -undoubtedly- the profile of Beethoven already from the opposite no.1. The first concert is already asserting itself as an apotheosis of symphony, there is Beethoven himself and you cannot deny it, because you can't find anyone else there! He is so... radical in this work - judging even by the choice of the first theme and what he developed starting from it. But - if we do not take into consideration Concert no.1 - it is just as good to talk about the second one!

How about the third?
The third concert? From the beginning it must be said that the third concert is in a minor tone... and that Beethoven had already gained experience after the first two concerts. Of course it is dramatic, because the tone of the minor has predisposed him to this expression. But for example, the slow parts of the second and third concert have a somewhat parallel development, which brings these two scores closer together.

Afterwardsthe two big piano concerts follow!
And then there are the ones we can call special; yes, afterwards - as one might say - the two SFINXES (4th and 5th concert)follow!

What does Beethoven mean to you?
Oh my! You need a lifetime to analyse, deal with this genius. I am referring here to various stages: first as a student - going through the unusual passages written by a maestro, the way you notice where the forte must be and where the piano must be... and how things for him are so different from the others! Later, you remain deeply touched and overwhelmed by his fate: that genius who was born to compose music and whose most important way to follow this path was taken away from him - that is, hearing. He could no longer exist among men. If, for example, we read "The Heiligenstadt Testament" - those pages written to his brothers, where he explains why he feels the need for more and more loneliness, because he cannot stand around other people; how to say to others: "Speak louder, for I am deaf" - he is a composer! That was actually the tragedy of his life. And when we talk about the heroism of his existence, we cannot describe almost anything compared to everything he really had to face during his existence.

Do you reckon we could talk about Beethoven in terms of a more obvious composer - constructor, more pronounced architect of musical forms than Mozart, Haydn or other creators?
No, categorically not. But he took it much further, practically continuing everything that had already been taken over from Bach in the field of form. Without Beethoven we do not know what would have happened to the musical form. Take the last sonatas as an example: Sonata 111 has not only this two-part construction but also a remarkable variation of construction; there probably wouldn't have been a Second Viennese School if there hadn't been Beethoven.
Due to the fact that you have mentioned the New Viennese School, I have found that you frequently included pages written by Viennese composers, of Classicism or of the early 20th century, in your recitals.
Surprisingly or not, I don't even know how to sayit,they blendtogether very well (the classic Viennese school with the new one). It's beneficial, not just to the public, but to me as well. For example, there was a moment three or four years ago if I am not mistaken... I remember how I started the recital with Schubert in Madrid and I continued with a work from the Second Viennese School. Then we return to the classic with other ears and other eyes, because everything is so different. Even Schoenberg started writing in tone. (Yesterday I was reading something very interesting about a statement of his, after he was told thatthe opposite of no.11 is atonal. To which Schoenberg replied: "Atonality does not exist!". It is a wonderful text. One could state it is similar to Bach to a certain degree, where all 12 sounds are treated equally; each tone is assigned the same value. This is also a search for the tone that is there, but in a different way. Again, it is a wonderful text of his.) Emotionally speaking, we feel fear, but why? Everythingis so closely related: to Brahms, to Schubert, to Beethoven. And in this music there is also such an integrated "polyphony" that we just have to see and hear. This is how we will also succeed to attract the audience to it...

In regards to a concert with the orchestra, are you looking for a certain "polyphony" between the soloist and the ensemble?
No, I do not see it that way in the slightest. What is a soloist? A soloist is one of those many other musicians who sit there and sing together. At Beethoven's concerts, like Mozart's, the main idea is in the first "tutti". For example, at the first Beethoven concert, after the orchestra's exhibition ended, in "tutti", what more could we add? Afterwards variations follow, all becomes more relaxed. It can't be any more beautiful than that first tutti, which is like a business card!
Anca Ioana Andriescu
Translated by Drangoi Ioana – Alexandra, Universitatea București,
Facultatea de Limbi și Literaturi Străine, MTTLC, anul I