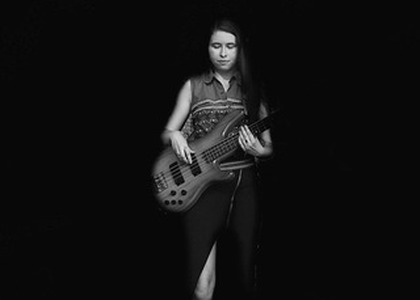 Interview with the bassist Laura Benedek
Wednesday, 12 February 2020 , ora 13.34

The 2020 Euroradio Jazz Competition is held on the stage of the Enescu Hall of the National Music University of Bucharest. Three jazz bands will be performing by 6 p.m. Bassist Laura Benedek will tells us about the 7th Sense ensemble.

To begin with, please tell us a little bit about the members of the ensemble and how it appeared.
We were students, some of us are still students, at the Faculty of Music, the Jazz department, with the exception of our trumpeter who graduated from classical composition and there we formed a community: we found ourselves, became friends, we had a few rehearsals, then we realized that the energy between us is very positive, therefore, we had the first concert in March, last year and since then we have been singing together, we have written songs and so the ensemble was created. I will start talking about the trumpeter as I have mentioned him before. His name is Sergiu Bivol, he graduated his bachelor's degree and now he is in his first year of MA. He is welcome because, unfortunately there are not so many jazz trumpeters at us. He really wanted it very much. Our pianist, Sergiu Chirileasa also went to high school music. He's got a very special style, he's very melodious. Somehow it resonates very well with the group. We also have a stranger, I might say, in our group. It is about our pianist Lucas Contreras, who comes from Colombia but studies here at the jazz department in Bucharest. He's in 4th year. Coming from Colombia, he brings a lot of influences from the Latin sphere, so to speak, and he greatly enriches our repertoire; another member of the ensemble is our drummer, Gabi Matei who is one of the youngest bright drummers from Romania. He's very creative too and listens a lot to what's played in the ensemble. In the end, I will tell something about me. I'm the band's bassist. I also graduated from the jazz department in July last year. I really wanted to create a group with whom I could compose and experiment different genres, especially in this latino area, but also grime which is a musical genre in London, on which the jazz scene is very much based. We have many influences present in our compositions taken from this genre.
In what concerns the schedule, you have total freedom within 40 minutes. How did you arrange the evening agenda?
All musical pieces are composed by us. We've written them over the last year. We don't have a specific composer. It all starts from a rehearsal play, firstly we play jazz without having a plan, we just sing and then we develop ideas; for example, maybe, Lucas, the guitarist comes up with a melodic line, I add a line of bass and so on, pretty much of all the songs were composed like this.
Interview by Petre Fugaciu
Translated by Andreea Radu, Universitatea București,
Facultatea de Limbi și Literaturi Străine, MTTLC, anul I