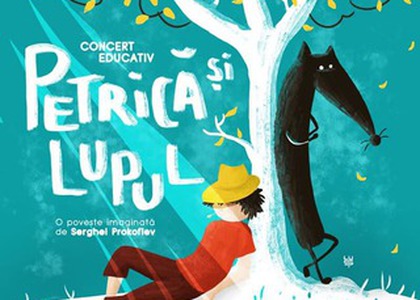 Interview with Cristian Lupes
Thursday, 13 February 2020 , ora 13.14

The first edition of the Sibiu Philharmonic Carnival proposes for three days, from February 13th to February 15th, several cultural events that will take place at the Thalia Hall of the Sibiu State Philharmonic. A synthesis of the three days of Carnival is madeby the manager of the Sibian institution himself, conductor Cristian Lupeș.

When we say carnival, we automatically think about Venice. From this year we will also think about Sibiu. It is the first edition you are organizing. How did you get the idea for this carnival?
Sibiu is full of many cultural events. There are many things that happen, but at the same time Sibiu did not have a carnival. Inspired by the Venetians, what is right, and especially by the tradition of what a carnival means - the celebration before fasting, we thought we should mark this event that didn't exist, especially because there is this deep link between carnival and Vivaldi. We actually wanted to encourage everyone to come wearing a mask to Thalia Hall and have a few days carnivaltogether with, of course, the very, very well-known holiday, the one on February 14th - Valentine's Day, in which we are all masked as better people who are more able to be loved.

And beyond the masks and this celebration of Saint Valentine's, which would be the most important moments of the Sibiu Carnival?
We have our usual concert on February 13th, which is dedicated to The Animal Carnival in the first place, and around this work, sung in a cameral version, at two pianos by Mirabela Dina and Monica Florescu, to which an ensemble of violins, viola, cello, double bass, flute, clarinet, percussion is attached. We're bringing this carnival atmosphere on the 13th, on Thursday. And because we are sold out on Thursday, we repeat the same program on Friday night, only that on Friday morning we want to involve the children in our schedule and how differently than with all the characters imagined by Prokofiev in Petrică and the wolf; andthen, the flutist Oana will be masked as a sparrow, the horns will mask themselves in wolves, the actor is Daniel Plier. The last night of the carnival events brings Luiza Zan into the philharmonic with a concert on Saturday evening, February 15th, which will take place very underground, at the level zero of the building, in the ''chimniță'' as we call it, the place where actuallya lot of events happen, it's a very generous and historic space. There we will be waiting for everyone, late in the evening, to listen to jazz and even be able to have a glass of wine together.
Interview by Ioana Marghita
Translated by Georgiana Marin, Universitatea București,
Facultatea de Limbi și Literaturi Străine, MTTLC, anul I