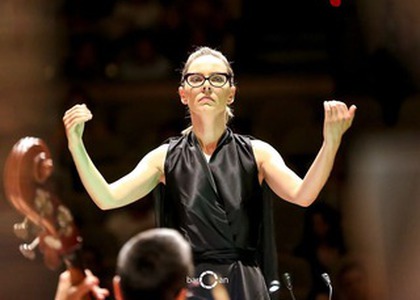 Interview with Simona Strungaru
Monday, 17 February 2020 , ora 10.53

The concert which will take place on February 15, 2020, registered in the program Classic is fantastic and realized in collaboration with the International Anim'est Festival of Animation in Bucharest, will combine in an attractive way the music and the cartoon in a show on the stage of the Romanian Athenaeum. More about this event from the following interview with Simona Strungaru, who will undertake a double role- that of pianist and composer.

The February 15 educational concert is named after the well-known children's cartoon character "Felix the Cat". How did you get to this title for Saturday's event?
It is, in fact, a cinema-concert with original music composed by me for the films that starred Felix the Cat, the films of the 1920s, so for a hundred years. We are a group of five instrumentalists who play live music that accompanies the image. It is presented in the educational framework because there will be explanations about how we conceived the music on the image and why we chose certain moments to be dedicated to the respective instruments and, practically, how they came to what they will see and hear.

Tell us about the collaborators who will be on stage with you.
I am pleased to have Natalia Pancec - violinist, Bogdan Gugu will play the clarinet, Iulian Niic will play the contrabassoon and Sebastian Burneci will play the trumpet. Alongside us are, but pre-recorded, Radu Sinaci - cellist, soprano Irina Ionescu and the voice of a character played by Maya Sophie Burneci.
Photo - Cristian Barcan
Interview by Alexandra Scumpu
Translated by Oprea Ana Maria Adriana, Universitatea București,
Facultatea de Limbi și Literaturi Străine, MTTLC, anul I