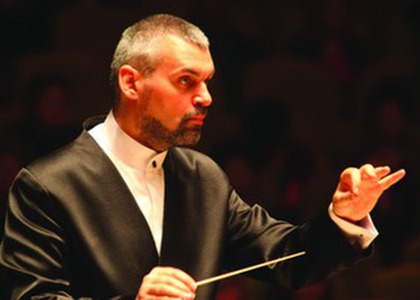 Interview with the conductor Jůzsef HorvŠth
Thursday, 20 February 2020 , ora 11.38

The conductor Jůzsef HorvŠth has been invited to conduct The Radio Chamber Orchestra for the concert that will take place on 19th February, 2020. The performance on stage will be assured by the pianist Horia Mihail, by the Radio Academic Choir , and by the soloists Cecilia Bucerzan, Emanuela S"l"jan, Nicolae Simonov și Cristian Ruja, who will put on a show 100% Haydn.

You will inaugurate a vocal-symphonic series, at least interesting, in the Radio Room, which will be dedicated to the great Missas by Joseph Haydn. In your opinion, at the moment, what are the assets of this seldom-performed works that might convince the audience to come to the show?
In the first place, they should not hesitate to come to the show, because those particular works are less often performed. Secondly, I think they are worth listening because of the very well written texts. They represent Haydn at adulthood, when he wrote in a complex way, as well as with polyphony, underlying a very high harmony, different from the period of his youth. Every work of this six great Missas that he wrote until his death is, somehow, considered to be a masterpiece of the vocal-symphonic writing.

What is the most difficult work to conduct in this show which is exclusively dedicated to Haydn?
It is Missa, of course, because it implies more elements than the Piano Concert or the First Symphony. From a conductor's point of view, Missa requires a balance between the concepts of forms, sonorities, orchestra, choir, and soloists. Moreover, these themes and wonderful songs written by Haydn must be highlighted, so as the work might be understood completely by the audience.

It is not the first time for you to conduct The Radio Chamber Orchestra. How would you describe the collaboration with this team?
I have been collaborating with The Radio Chamber Orchestra for at least 12-13 years. It is always a pleasure to come and try to work together on less often performed works, and put on interesting shows. I hope working with me it is a pleasure for them, too.

What can you tell us about the soloists who will sing this evening? Have you collaborated with the pianist Horia Mihail before?
Yes, we worked together in many places throughout the country. However, it is the first time when I work with the soloists in the misa. They are members of the Radio Academic Choir and they sing these scores in an extremely sensitive way. I hope the public will agree with me.
Interview by Larisa Scumpu
Translated by Lambru Anița-Florentina, Universitatea București,
Facultatea de Limbi și Literaturi Str"ine, MTTLC, anul I