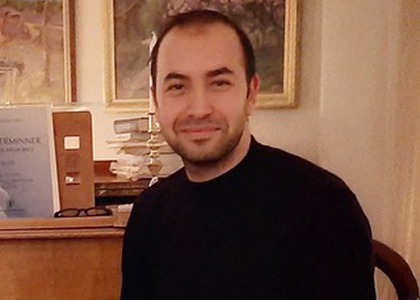 Interview with the pianist Dragoș Cantea
Thursday, 20 February 2020 , ora 11.42

Between February 16th and 22nd, 2020, the city of Iași is hosting the first edition of the project "Classix Festival", which will contain concerts, debates and educational activities, with the participation of both Romanian and foreign musicians. Before the opening recital on February 16th, the pianist Dragoș Cantea offered us a few details about this event, as well as other aspects of the festival.

You're the artistic director of this festival, whose aim is to promote authentic human values, in different forms. What was the starting point of the idea of this festival?
The "Classix" festival started from an idea of interdisciplinarity between art, business and the local authorities, especially as I've seen this triad is very successful in Scandinavia, and I found it would be suitable to try and integrate this cultural pattern in Romania. Since I was born and raised in Iași, I couldn't have imagined another city in Romania where we should try and have this festival.

The recital on February 16th is called "Human and Divine". How does this title reflect in the program of the recital?
The recital on February 16th, which is also the opening of the festival, is somehow a historical moment, as it's the first piano recital held in a cathedral in Iași and it certainly must reflect the idea of divinity and what is above the human life. The program was sketched after several works composed by musicians such as Janacek, who have militated for human experiences and have composed by means of these experiences; they generally describe the landscape of the mountains of the Czech Republic, as well as its lakes and forests. And finally, we'll reach the more sacred part of Bach's monumental Chaconne and its transcription for piano, made by Ferruccio Busoni, and especially Beethoven's last piano sonata. 2020 is a Beethoven anniversary year, therefore he couldn't be left out of the program, and this the last sonata, this eulogy or requiem if you wish, is his way of saying goodbye to the sonata genre and it connects us even more with divinity.

As you've mentioned, one of the parts in the program belongs to Leos Janacek, a composer you've studied intensely through research and recordings. What did you like about Janacek's style?
I was attracted by Janacek's unique style and his thoroughly special universe, and that's exactly what I've been intending to research. What is it that makes Janacek's music so easily recognisable and so different from the symphonic grandeur of his period? Certainly, the fact that it's the for first time in Romania that he's being studied added to my interest even more and made me want to go deeper in this matter.

Besides the concerts, the "Classix" festival also organises a few debates on different themes, and one of the guests is the composer Peter Tornquist, rector of the Royal Academy of Music in Oslo. How will these debates take place?
Mr. Peter Tornquist will be honoring us with his presence on February 17th, at the Cultural Palace in Iași. This dialogue, as we've name it, will be a free-access event too. Basically, it's a series we've called "Classix in focus", with several important representatives from Scandinavian music schools, and Mr. Tornquist will be talking about the future of classical music, about his transition from composer to rector, and about how Scandinavia inovates - if it truly does so - the area of classical music and how the latter will evolve in the next 10-20 years, as we're currently facing a transition regarding everything that culture consumption means.
Interview by Vlad Ghinea
Translated by Eleonora Manea, Universitatea București,
Facultatea de Limbi și Literaturi Străine, MTTLC, anul I