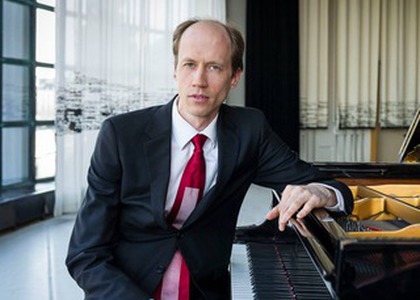 Interview with the pianist Per Rundberg (II)
Thursday, 27 February 2020 , ora 10.02

On March 4th, the Swedish pianist Per Rundberg will perform, together with the cellist Valentin Răduțiu, in the recital organised by Radio Romania Musical and Rotary Club Pipera, under the generic name of "Heirs of Musical Romania". Tickets available athttps://www.bilete.ro/mostenitorii-romaniei-muzicale/

I noticed you manifest great interest in contemporary music as well. What place do nowadays works hold in your repertoire?
I've played a lot of contemporary music as I find it extremely fascinating, with plenty of harmonies; it takes me to another world. I've worked with many contemporary composers and interpreted works by Gyorgy Ligeti, Karlheinz Stockhausen, Pierre Boulez, Iannis Xenokis, as well as works by some Italian composers such as Franco Donatoni or Luciano Berio. I feel like this is a very important part of my repertoire.

You're involved in the project called "Weiner Schubert Soloists", in which you interpret works as old as 5 centuries, classical masterpieces or contemporary works. How would you describe the experience of participating in such a project?
At some point, I created a CD containing works of some Italian composers from Rome, starting fromGirolamo Frescobaldi, Alessandro Scarlatti and then to Luciano Berio, David Macculi and Alessandro Pelegatti. I found it particularly interesting how music has evolved along the centuries and I think this also reflects in my activity in "Weiner Schubert Soloists".

Also, you've launched several records. Are there any differences between playing onstage and in the recording studio?
It is a little bit different. I much prefer the concert experience, where you have the possibility to be spontaneous and experiment with the sonorities. You can do that in the studio, too, as it's the ideal way to record songs. It becomes tiring when you have to repeat a certain part, but everything's about being well prepared. I believe it's very important to keep the concert attitude in the recording studio as well, because it allows me the proper freedom when I'm recording. What I find fascinating about the studio recordings is the fact that you can aim for some type of perfection, you can try to experiment and rehearse until you're fully satisfied - something that can't happen during a concert. I can say that both situations are equally interesting.
Interview by Vlad Ghinea
Translated by Eleonora Manea, Universitatea București,
Facultatea de Limbi și Literaturi Străine, MTTLC, anul I