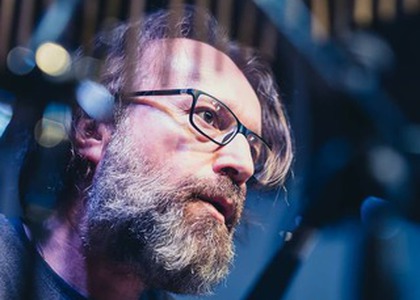 CD release - Interview with Berti Barbera
Monday, 2 March 2020 , ora 10.54

Two events bring him to our attention this week - the concert he will perform in Brașov as soloist of the Radio Big-Band conducted by Ionel Tudor on Friday, February 28 - and the release of his most recent album, the fifth project with guitarist NicuPatoi, and guests Bruce Katz - piano, Ionuț Bogdan Ștefănescu - flute, DecebalBădilă - bass, Sebastian Burneci - trumpet and Cristian Soleanu - saxophone. Done with great meticulousness and passion, the album "Blue Drops" will be performed live in Bucharest, on Saturday, February 29, at Unteatru, SfințiApostoli Street no. 44 from 9 pm. It's all about the blues - from the 20s to present day.

Berti Barbera, here at Radio România Muzical we know you first and foremost as the producer of the show "Jazzy Hour", in which you talk about the newest and most interesting jazz records. In fact, it gives us another perspective on the present. But now the roles are changing. You're on the other side of the fence, if we are to talk about your latest record release, "Blue Drops".
It's an album that had to be released, because it sums up our passion for American music, for blues - this free and clean, sincere form that has contributed to our decision to make music all our life, the joy of expressing yourself that way. It is a platform on which we could perform, better said, to estimate the level we have reached at this moment. It's a very good occasion... the years when very beautiful, great blues pieces came together, pieces which are not as well-known as others...and, the best part is that there really isn't another side of the fence, because everything starts from my desire to share the joy of discovering powerful moments in world music and an intention to align ourselves with this current, because otherwise we do not exist as musicians if we are not part of this universal phenomenon, contributing every time to enrich the repertoire, to diversify the scene. And, therefore, "Blue Drops" is the album that influences by color and intensity and quality, the level of the Romanian music scene and contributes to this tribute that musicians bring to blues.

And it's not only about this CD release. On Friday, February 28, Berti Barbera, you will be in Brașov, also performing blues as soloist of the Radio Big Band. What is the context?
It is a great joy to take our blues project to Brașov, where we have never been before. The pleasure is complete as usual, because in addition to the continuity of the collaboration with the Big Band and the pleasure of contributing to what Hospice - the House of Hope and all those who are trying to do something for those in need, are materializing. This concept brings more satisfaction. On Friday in Brașov, I will be with the Radio Big Band at this gala show, I could say. The poster honors me. I am very glad to be with such artists in a concert where we celebrate life, celebrate music, friendship and the first anniversary of Radio Romania Brașov FM.

The concert will take place at Patria Hall, from 7 pm.
I am so excited to perform with the Radio Big Band, to perform this music, to pay homage to American music, to pay tribute to professionalism, to friendship.

If I understand correctly, the "Blue Drops" record is some kind of history of the blues from the 20s, 30s to the present day, with some personal interventions...
It is a bit much to say it is a history because it would have to contain dozens of volumes, at least - it is a subjective history in the form of a tribute to the music that gave us this desire to turn passion into vocation.

...and I notice that you did not use the original versions, all the pieces are improved with their own improvisations and there are also personal titles. How would you define this creative process?
It combines everything, passion, and pride, and experience, and everything that lifts you up, everything that makes you want to at one point draw a line to see where you are, and to realize, if necessary, that you have evolved. We were surprised to find ourselves listening to the album with real pleasure, and imagining that it is practically a record for anyone who wants a moment of sincerity and musical veracity, and that is why I think this creative process was very close, artistically, to what we wanted and what is practiced in music worldwide.

Indeed, listening to "Blue Drops", you are left with this feeling of authenticity that will surely be amplified in concert. That's why we invite our listeners to Unteatru on Saturday, February 29, from 9 pm, when this album will be officially launched. Thank you, Berti Barbera!
Interview by Marina Nedelcu
Translated by Alina-Nicoleta Duminică, Universitatea București,
Facultatea de Limbi și Literaturi Străine, MTTLC, anul II