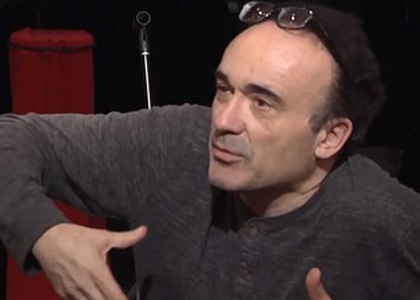 Interview with the conductor Frederic Chaslin
Monday, 18 May 2020 , ora 13.12

The famous French musician conducted the National Radio Orchestra on Friday, 6 March, at Sala Radio.
How did the rehearsels go? How did you interact with the orchestra?
We've known each other already after a concert in November 2018, in the RadiRo Festival, thus I already have experience with them-but with a very different repertoire- Ceaikovski, Schumann și Rimski-Korsakov, and now we are collaborating in other occasion with Beethoven, a young, classical, close to Haydn's work, and, of course, Bernstein. I appreciate the flexibility of the orchestra and the fact that they like to learn something new- an important aspect for any ensemble. Putting two works which are so different together - a Beethovenian symphony of youth and this work by Bernstein-was a good idea. Sometimes I appreciate a program in which the works don't have anything in common. We are here to bring surprises like in a modern art exposition, for example I have just come from Vienna where the Albertina Museum reunites creations of painters like Gerhard Richter, Andy Warhol, Pablo Picasso, but classical painters as well. I like this freshness, it refreshes your mind. I think an advantage that is offered by putting two works which are so different together is the fact that we address each of them individually, with the required energy. I think this is the reason why these two works which are so different were chosen- so they would keep our attention.

Tell us a little about the Second Symphony "The age of Anxiety" by Leonard Bernstein. How do you see this work of art?
I like it very much. It is not the first time I've done this, but I received Dana Ciocârlie's invitation to come here very excited, because two years ago I couldn't do the work as good as I had hoped, thus I was disappointed. Dana Ciocârlie is a fantastic pianist and the orchestra is making progress, so I will be able to compensate eventually for the two years ago drawbacks. Bernstein is a model for me because I am a composer, pianist, conductor, writer-if I were to choose a model he would certainly be Leonard Bernstein. It is strange he names it symphony the work should be considered a Piano Concert. When we have a piano in front of the orchestra, in a solo context, with the conductor on the side, and the pianist plays from the beginning till the end, with technical dares, I would call this work a Piano Concert.

On 3rd March you conducted a performance of the spectacle "Manon" by Jules Massenet on the Vienna State Opera stage. On the second day after the Sala Radio concert you return to Vienna for another performance of the same show. You were talking earlier about different activities you do-you are a composer, conductor, pianist. When do you find enough time?
I conduct a lot of opera performances, and a series of representations is split into two weeks of rehearsels and then two weeks of performances. During those two weeks of performances, I only work at night- for example, in the series with "Manon" I have a performance at night, three free days and a performance at night, thus sometimes I am free for days for the campus, study, it is ideal, this is why I like being opera conductor because it gives me a lot of freetime for composition.

Are you working on something now?
I am finishing a Sonata for flute, I finished a work for Trombon and orchestra-variations on a theme by Gustav Mahler, after this Sonata for Flute I am going to write a Concert for piano dedicated to Dana Ciocârlie, an opera, the projects for future years are already established.
Interview by Petre Fugaciu
Translated by Țîru Mălina Roxana, Universitatea București,
Facultatea de Limbi și Literaturi Străine, MTTLC, anul I