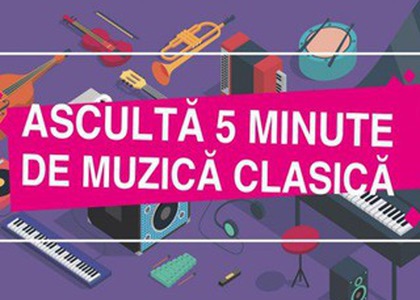 Interview with Inspector Adrian Brăescu from the Ministry of Education and Research
Wednesday, 7 October 2020 , ora 13.53

Starting today, October 5th, a new season of the program is taking place in schools.

On 1st of October 2020, Radion România Muzical celebrated the anniversary of a decade of existance of "Listen to 5 minutes of classica lmusic" project and started a new edition of this. Since 2014, the project has represented a national program in Romanian schools, thanks to a partnership signed between Radio România and the Ministry of Education and Research. In the last school year, more than 191.000 pupils from the Capital and from 31 counties listened to the songs provided by our station. In this season, the project is dedicated to Ludwig van Beethoven, celebrated at 250 years of his birth. The anniversary edition "Listen to 5 minutes of classical music", an event that has become one of the main educational and cultural projects of the public corporation Radio România, has already started in the public areas like hypermarkets, shopping centres, bookstores and museums, and starting today, October5th- in Romanian schools.

The project "Listen to 5 minutes of classical music", initiated by Radio România Muzical celebrated 10 years of existence, and for 6 years it has become a national program developed in Romanian schools, thanks to the partnership with the Ministry of Education and Research. What did you expect when you started the edition of this school year? How do you see this program and this partnership from the perspective of the Ministry?
From the perspective of Ministry, as education can adapt to the harsh conditions due to this virus, certainly, our project can as well. It is such a beautiful project and so valuable educational so that I don't see any reason for it not to adapt to these conditions.

Radio România Muzical provides audio files to the educational units, the musical selections being also accompanied by a story about each chosen work. How important do you think musical education is for pupils?
It is very important. It is part of general knowledge of any teenager, even since the very beginning of school. However, in the last years I have observed a tendecy (I hope it's not so generalized), not to say isolation, but that would be, the one of some discipline of major importance in the formation of each human for the world. Not always this thing is understood by pupils and, of course, beacause of this thing there are some difficulties in the application of the project. But I think that any unpleasant thing, liket he actual situation, can somehow be turned into a good thing. This wonderful music could reach children, and not in the hallway, not in a more general place in which I don't know exactly how many listen to it, how many embrace it. Perhaps now, through its individual progress, through specific resources of online education, we will be able to put a musical background that will reach them more clearly - both the musical message and the education alone.

Therefore, all conditions that led to adapting teaching in schools, including online and hybrid system, regarding musical education can be successful, temporarily, of course.
It may be. We will see. The framework-plan is under discussion - at this moment for the elementary school and it is under debate, under discussion and we will see the status of the discipline which will result after this decision. I see that many have asked for a more special status. Instead of grades - ratings, some - even less. We will see. So the fight for the existence of a discipline that accompanied the school of today, not of yesterday, continues.

The pupils from rural or disadvantaged families do not usually have access to listen to live classical music. How much does this program help them, through teachers and the materials received, to listen to it, and especially, to understand it?
Now I think that through this online system, the message will reach more directly and possibly clearer. Of course, they should listen to first, and then see if they need additional explanations or if the expressiveness of music reaches easily their soul, simply. They will discover some things extraordinarily beautiful in classical music. Of course, if we have the opportunity to give them some explanations, it will be better.
Interview by Florica Jalbă
Translated by Călinescu Emilia-Georgiana,
Universitatea din București, Facultatea de Limbi și Literaturi Străine, MTTLC, anul I
Corrected by Silvia Petrescu