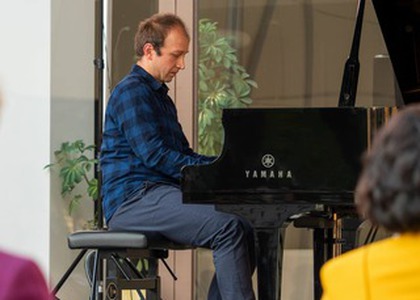 Interview with the pianist Bogdan Vaida
Thursday, 15 October 2020 , ora 15.46

Catch up within the next interview on how this year's edition turned out under pandemic conditions, which the musician has given to our television channel. Catch up on how this year's edition turned out under pandemic conditions in the next interview, which the musician has given to our television channel.

The Fourth issue of the Classic's Unlimited Tour started this year on September 15th. How has it gone by now considering the current situation facing the pandemic?
The concerts had gone very well, and I feel privileged that I can still perform these concerts even though this situation with the pandemic is puzzling to deal with, and it is, indeed, a tough challenge, especially for the organizing team. All kinds of problems occur, some concerts got postponed, some of them got canceled, but we always managed to find a solution so far.We still have two concerts in the tournament, and there is trouble already with the show which was scheduled for tomorrow at Deva... and the weather too, of course. We are bound to perform the concerts in open-air as a result of the pandemic which causes the weather to be a factor and ... we try to handle it.On top of that, many people came to all concerts, we were welcomed warmly, with friendship everywhere and for me, it was an honor and a joy to be able to perform these shows.

How did you choose the place for the concerts?
This year, given the situation with the pandemic, the chosen places were based according to that, in the sense that when they told us to hold the concerts only in open-air, and we had to give up on the locations that were originally set for the tour, but we had quite a few pleasant surprises. We ended up in some beautiful places. One of them, which I liked very much, was the memorial House named "George Enescu" from Sinaia, a lovely spot for a concert.We had a concert at The Mureș, at the Faculty of pharmacy and medicine from there and was, once more, a lovely place. The Ethnographic Museum from Cluj was lovely too. Essentially, the principle we are relying on when we're looking for places, remained the same, namely that we want to go where people are curious to listen to music and want to welcome us.

What other events follow in the series of Classic Unlimited?
As I was saying, we have two more concerts in this cycle; One of them is scheduled at Deva tomorrow, in the fortress from there. This one too is a lovely place; I saw it on our way back from the concert held at Timisoara, and I truly hope that it won't be canceled because of the weather. And then, there is the last one, in Cluj Napoca at USAMV, Thursday.
Interview by Alexandra Scumpu
Translated by Kazemi Zahra,
University of Bucharest, Faculty of Foreign Languages and Literatures, MTTLC, year I
Corrected by Silvia Petrescu