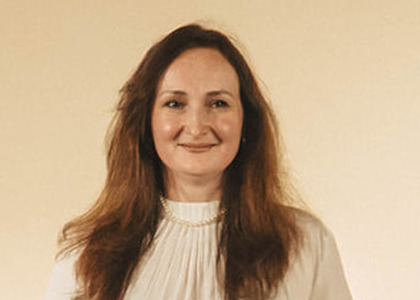 Interview with Monica Florescu about the Florescu Fernandez & Friends season
Wednesday, 21 October 2020 , ora 14.55

The new Florescu Fernandez & Friends chamber season begins on Sunday, October 11th. The first recital proposes an interesting theme, "Beethoven's love letters". What it is?
We have been doing this season for five years. We focused on Beethoven this year, because we celebrate 250 years since his birth and due to the current situation many concerts have been canceled, so on any occasion we can, we want to celebrate Beethoven. So, this concert is dedicated this time to his love letters, some letters that were found unsent, it is not known to whom they were addressed, but these letters will be read by actors from the Radu Stanca Theater in Sibiu, together with me. I will perform excerpts from Beethoven's sonatas, as well as an entire sonata at the end of the recital, music that actually illustrates, a little, this atmosphere of his love letters in relation to the period in which he composed these works selected by us and we want to present it to our audience here and everywhere, because our concert will be broadcast live on the internet. It will be broadcast from the Mirror Hall of the German Forum in Sibiu, at 17.00

What other chamber ensembles will be present this season?
We are happy to invite internationally renowned artists, with whom we have collaborated. I mention a few names, the violinist Ioan Șerban, the violinist Răzvan Popovici, the director of the SoNoRo Festival, as well as the Arcadia Quartet. These are the names of some of the musicians who will participate in this first part of the season this year. These are concerts held in October and November and December.

The theme of the season is adapted to the times we are living in, "Touched by music".
We chose this title, given the current situation, when, in fact, the touch is more and more distant, for obvious reasons, and we consider that music, in practice, has the role of connecting us. We reflected on the current situation and we realized as musicians that our role is practical, to help the public, which during this period is deprived of many cultural events. So, our role is to re-establish this connection and connection between us as human beings. The audience is very important to us and then, "Touched by music", it has the role of reconnecting people through music so that they do not feel isolated and our energy as musicians, I think it can bring a plethora of good, in a society that needs music.

As far as we know, the concerts of the Florescu Fernandez & Friends seasons also have an educational dimension. Each work performed is preceded by short explanations and historical landmarks. Will it be the same this time?
This idea, to present the concert in an educational dimension, is a desire of ours to bring the audience closer and to familiarize them with classical music. Some composers also wrote a lot and left letters or various thoughts about the pieces they composed, which later became great masterpieces and I think it is important for the public to become familiar with this, to see them. These composers were people who also lived during hard times, faced many difficulties and managed, practically detaching themselves from hard times, to transmit and carry a message through art. Our concerts are dedicated to all generations. We encourage both the elderly who always come to our concerts and the young people and their children. During the pandemic, in March and April, when there was a state of emergency in which no concert with the public could be held, we connected with the Livestream Romania team and they decided to help us with this to broadcast all our concerts online and we stayed on this formula as well. It is important to broadcast it live so that more people have access to this event and can even review it later, even if it cannot be present in Sibiu at this event.
Interview by Maria-Isabela Nica
Translated by Oprea Ana Maria Adriana,
University of Bucharest, Faculty of Foreign Languages and Literatures, MTTLC, year II
Corrected by Silvia Petrescu