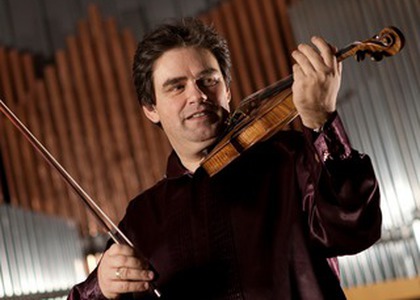 Interview with violinist Gabriel Croitoru
Wednesday, 21 October 2020 , ora 14.58

The concert ending the "Violin of Enescu" Tour, held with pianist Horia Mihail, takes place on Tuesdayat the Radio Hall. How did the tournament go considering the current situation?
This is only part of this year's "Enescu's Violin" Tournament, because the 2020 edition in conditions imposed by the pandemic takes place under the auspices of the Beethoven anniversary and, together with pianist Horia Mihail, we decided for this edition of "Enescu's Violin" to include allthe sonatas by Ludwig van Beethoven. On Tuesday, only the first of the three recitals scheduled here will take place at the Radio Hall and willonly include three sonatas - no.3, no.4 and no.7 - and the other two will be performed in up to a month; one will be on October 20th and the other one on November 5th.
The tour started at the "Paul Constantinescu" Philharmonic in Ploiești, followed by a concert held at theSlatina House of Culture. And further on, the other concerts at the Radio Hall will be "surrounded" by performances in various philharmonics and other concert venues, more or less with the public, depending on the possibilities at the moment. We'll seehow it will take place at that point. But we have to collectourselves and return to the concert halls, to the audience and to an atmosphere of normalcy.

Knowing that Tuesday's recital will be broadcast live, how does the experience of singing without an audience in the hall seem to you?
I can honestly say it's an unpleasant experience. I don't want this thing to happen too many times. At the moment, it is as clear as day that we have no other solutions or, well, that the authorities have no other solutions, because, in the end, my opinion is that sincepeople can be much closer in a planephysically speaking, in a concert or performance hall, theatre or opera house, I don't see what the problem would be. But, it is the decision of the authorities, we must respect it as such and, I repeat, it is not pleasant either for us or for those who will hear us perform online.

Tell us about the sonatas you will perform at the Radio Hall on Tuesday. How are they from your perspective, what challenges or difficulties do they present?
I performed this integral together with pianist Valentin Gheorghiua few years ago. It is true that every time one's stage partner changes, a challenge arises from this point of view. But me and Horia know each other very well both on and off stage, I think over timewe have shownthat we get along, that we empathize with each other and in these conditions I hope and I am sure that some very good recitalswill come out.
Interview by Alexandra Scumpu
Translated by Drangoi Ioana – Alexandra,
University of Bucharest, Faculty of Foreign Languages and Literatures, MTTLC, year II
Corrected by Silvia Petrescu