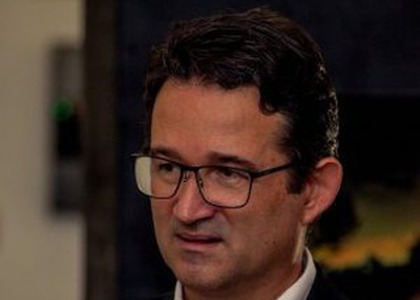 His Excellency, Mr. Arthur Mattli, the Ambassador of Switzerland at Bucharest in dialogue with Gabriel Marica
Friday, 23 October 2020 , ora 15.51

The Guest of the Week at Perpetuum Mobile is His Excellency, Mr. Arthur Mattli, the Ambassador of Switzerland at Bucharest.

Your Excellency, I want to begin by thanking you for this interview.
I thank your radio station for the invitation.

I think our listeners should know that you're a great lover of classical music. Where does this passion come from?
There is, most likely, a medical side and a cultural side which complete each other to define my passion for music. Regarding the cultural side: I was born and raised in a very musical city in Switzerland. Lucerne is well known as a city with a vibrant musical life with many dedicated festivals, especially to classical and religious music. I myself have sung in two choirs and studied piano at the conservatory. My parents were music lovers. Together with them I attended numerous concerts and opera shows.
As far as the medical side of the answer. The neuroscientific research tells us that music has a great impact on our brain.When we listen to music our brain releases dopamine, a happiness hormone. In other words, music makes us happy, we learn to listen first, not to talk. It's interesting that there's no study that demonstrates that music consumption is harmful, but we know for sure that music raises spirits and encourages community life.

You studied piano and your professor had Dinu Lipatti as professor. Is it true?
That's right. Mrs. Heidi Harry, my piano professor at Lucerne Conservatory, was a student of Hubert Harry first, the one who studied with DinuLipatti at Geneva. The two got married later.I had the great privilege of playing the concert piano every week at their house, the piano which had Rahmaninov's strong hands' cast, and on one wall there was a small photo of Dinu Lipatti. The sonority of Dinu Lipatti's piano influenced the aesthetics of Hubert Harry's interpretation throughout his life and brought Hubert Harry in Switzerland. His admiration for Dinu Lipatti was immense. He ended almost every recital remembering us of Dinu Lipatti, playing the Bach choral (Jesus remains my joy, from Cantata Herz und Mund und Tat und Leben, BWV 147), which Lipatti himself played very often.

Is Lipatti's art one of the reasons for you accepting the Ambassador of Switzerland post in Romania?
I will answer in a diplomatic manner: I wasn't displeased at all with being offered the Ambassador of Switzerlans in Romania post. I visited Romania in a previous diplomatic visit and I felt very lucky to return to Bucharest, to live here and explore the great musical life and cultural legacy of this country. From a musical point of view, I already knew about DinuLipatti, but I also knew about Gheorghe Zamfir. One of his vinyl records was a part of our family collection and I noticed Zamfir's recording alongside the legendary Swiss organist and ethnomusicologistMarcel Cellier.

The auditorium from the Sighisoara Medieval Citadel, which you inaugurated last year, holds the name "DinuLipatti-Clara Haskil" Auditorium. Is Clara Haskilanother mark of your passion for music?
Yes, definitely. Charlie Chaplin said before passing away at the age of 88 that there are three people that impressed him most in life: Albert Einstein, Winston Churchill și Clara Haskil. Indeed, when I was listening to ClareiHaskil's recordings today I was deeply impressed by her soothing, discret, incredibly precise and transparent performance. I think DinuLipatti and Clara Haskilwere like two magicians: their piano hasn't only black and white keys. When you listen to them they make us see thousands of beautiful colours.

Your Excellency, do you have a favourit composer?
The composer I admire the most is Johann Sebastian Bach. I'm simply fascinated by his compositions. He was more than a composer: he was one of the most important architects of the European tonal language. The beauty and depth of his music transpire in his big and small opposites, like that simple Sicilian in mi flat major (BWV 1031), from his Inventions, those school scores, from the orchestra music and from The Well-Tempered Clavier. I'm thinking about his emotional, sacred and disturbing music, like for example Matthew's Passions. I'm thinking also about his enchanting and optimistic music, like for example the Brandenburg Concertos or themagisterial Goldberg Variations.

The Sighisoara Academy is an educational and artistic project, the produce of the cooperation between Romania and Switzerland which you support. What can you tell us about this project?
The Sighisoara Academy was dounded in 1993, as a Summer Music Festival at Sighisoara, by the Romanian origin Swiss violinist Alexandru Gavrilovici and the Swiss flutist Heidi Indermühle. What was originally a modest class of artistry for young musicians from Switzerland and Romania, in the romantic ambiance of the Medieval Fortress of Sighisoara, soon became a significant music festival. From that moment, annually, a dozen of professors of international renown who represent various instrument, took part in the classes and festival concerts which took place in the first and second week of August. There's no other city in Romania with a more constant musical exchange between professional Swiss and Romanian musicians than Sighisoara.

This year's edition of the Sighisoara Academy was cancelled due to the pandemic, but on the 25th of October there will be held a concert at Sighisoara organized by the Embassy of Switzerland and the City Hall. What can you tell us about this concert whose motto is: Show must go on?
The concert from Sighisoara is a concert of solidarity for all those artists who lost the connection with the public and maybe even the hope of being artists. We want to thank them for their art and to express our solidarity and hope both for musicians and music lovers in these difficult times that we found ourselves in. We need music to raise our spirit more than ever. And yes! The musical life must go on.

We know that you are a part of the listeners' club of Radio România Muzical. What message can you send to the music lovers in these difficult times in which we found ourselves in?
We have in the Constitution of Switzerland a thing that may seem weird. The Article 67 says: the Confederation and the Cantons will encourage musical education. I think Radio Romania Muzical is a big and important promoter of musical education. In these difficult times thousands of listeners are being isolated at home because they're in quarantine or they found themselves on a hospital bed. Many of those people and many more will look/search for a radio to be there for them more than before. As I said, by listening music and ulterior educating ourselves, our spirits raise. And this is the most important message: music is benefic for all of us and we must be thankful for having a quality radio station like Radio România Muzical. I urge you to unite ourselves in supporting art as much as every one of us can.

Your Excellency, I thank you and wish you good luck in the preparation of the Sunday Concert at Sighisoara.
Thank you, Radio România Muzical
Interview by Gabriel Marica
Translated by Codescu Paula-Silvia,
University of Bucharest, Faculty of Foreign Languages and Literatures, MTTLC, year I
Corrected by Silvia Petrescu