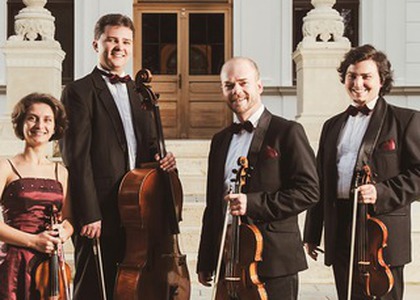 Pianist Monica Florescu and violist Traian Boala, member of the Arcadia Quartet in dialogue with Gabriel Marica
Monday, 2 November 2020 , ora 14.21

The "Florescu-Fernandez & Friends" chamber season and Radio Romania Musical present a chamber concert - an event that marks Radio Romania Day, right on the 92nd anniversary of the first radio broadcast in Romania. The chamber concert from November 1st, 2020, at 5 P.M., is held in Sibiu in the Hall of Mirrors of the German Forum by the Arcadia Quartet, the most representative Romanian quartet at international level.
The chamber season Florescu Fernandez & Friends and Radio Romania Musical, organize a chamber concert event, supported by the Arcadia Quartet, in the Hall of Mirrors of the German Forum in Sibiu, on November 1st, on Radio Romania Day. Well, with us on the phone are pianist Monica Florescu, the host of the event, and violist Traian Boală, member of the Arcadia Quartet. Welcome.
Monica Florescu: Thank you.
Monica Florescu, what can you tell us about the Florescu Fernandez & Friends chamber season?
Monica Florescu: This chamber season was founded five years ago when I, pianist Monica Florescu and my husband, cellist Makcim Fernandez Samodaiev, moved to Sibiu and worked as soloists at the Sibiu State Philharmonic. After many years of collaboration together and 15 years of activity in Belgium and later of about three years in Mexico, we gained experience in chamber music and the idea of forming a chamber season was practically a wish. As artists we want with all our hearts for Sibiu to be a reference centre of chamber music in Romania and, of course, recognized nationally and internationally.

This season was founded in 2015, right?
Monica Florescu: In 2015 I started the first projects and I want to mention that this season is practically on my own, on our own, so I want to say that it is an independent project made with our resources and today I consider the fact that we can invite an ensemble, such as Arcadia for example, which is generally very requested and very popular in the philharmonic programs, to be part of our season in Sibiu a great success.

How is the season going this year, taking into account the special conditions according to which our life takes place practically?
Monica Florescu: Against the background of the uncertainty we live in today, events with audience arepracticallycancelled from one day to the next, the fact that we can still support these concerts is a special thing, and with all modesty, I can say that it is nationally remarkable at this time and I want to thank everyone in Sibiu, I want to thank the people of Sibiu for supporting this season and since its beginning, we have had support, primarily from the audience. And this Sibiu audience, which showed us its support, practically proved the need for long-term support on such a project. Then partners started to join, such as the City Hall of Sibiu and the German Forum, which provided us with the concert hall where we perform these concerts. I want to thank these people for havingbeen and still being beside us and for having created a special cultural atmosphere in this city. I reckon this deserves all our gratitude as artists.

We spoke to the host of the event. Let's talk to theperformers now. In fact, the representative of the performers, with numerous important international awards, concerts on important stages of the world, records released at prestigious houses. The Arcadia Quartet is considered the most representative Romanian quartet of the moment. Traian Boala, welcome.
Traian Boală: Thank you for having me.

How do you feel in this position, that of a representative Romanian quartet?
Traian Boală: Honestly, we do not necessarily consider ourselves the most representative quartet. There are a number of quartets with prestige and value in Romania, but we are very honoured by this title. We are aware that we representthe image of our country abroad in a very elegant and beautiful way.

I would ask you to tell us about the program of Sunday's concert in Sibiu.
Traian Boală: We will interpret a work composed this year by maestro Dan Dediu. It was composed in the context of the so-called Beethoven Year, because it marks 250 years since the composer's birth, and Dan Dediu represented this phenomenon through a quartet composed and inspired by Beethoven's music, called Fur Ulysses, with reference to Fur Elise, but in this case it is Ulysses, the character who travels the world in search of answers. It is a quartet that I have already read, studied, deepened and performed on stage, with great pleasure. And the second quartet in the program is, of course, Beethoven, the Quartet op. 131.

The first absolute audition of the work signed Dan Dediu should have taken place here, at the Radio Hall, but unfortunately the concert was cancelled by the pandemic, so the Fur Ulysses Quartet by Dan Dediu was performed for the first time in Cluj, in a concert with the public. How was the work received by those in the hall?
Traian Boală: Unsurprisingly, it was received in a very, very appreciative way by everyone in the audience. I mean, of course, we didn't talk to everyone, but many of them came later to congratulate us and tell us how much they appreciated and liked Dan Dediu's work. But, as I said, it was not a surprise, because I also played other quartets by Dan Dediu, I also played works written by him with the orchestra and he was always very successful with the public. He has a way of writing, in such a way as to satisfy both the performer and the listener, equally.

This work was obviously previously unseenfor you, members of the Arcadia Quartet. How did you feel performing this score on stage?
Traian Boala: At home. Given Beethoven's music, given that Dan Dediu's music in this quartet is very, very much inspired by Beethoven's music, we felt very natural and, as I said, at home and even today we had a rehearsal for the concert on Sunday in Sibiu. Furthermore, we have a special pleasure every time we perform the work.

We do not know exactly when Beethoven was born, it is true, but there are documents saying December 17th is the day he was baptized. Well, Radio Romania Musical will broadcast that daythe recording of the concert that you, members of the Arcadia Quartet, will have in Sibiu. The first radio audition of the Dan Dediu Quartet will be heard at that time. Let's move on to another topic, let's say, one of the most affected areas by the pandemic is the artistic one. I want to ask you, how did you adapt to the restriction period and is there a positive side to this extended break?
Monica Florescu: Here, I can tell you that during this period we had live streaming concerts when we couldn't benefit from the audience. I suffered a lot, because it's great to share musicto the audience and the empty performance hallis acoustically different from the times when we have the audience around us, but I personally and we, my husband and I, learned and discovered a lot in this chamber season. During this period, the positive side would be that we adapted to new technologies and we simply had to learn how to place the lights, microphones, including live broadcast on our own and I think it was a great learning experience for us, for we very oftenhad the support of LiveStreaming Romania, whohelped us with the transmission. We learned a lot from them, in order to be independent in these uncertain times and to be able to continue our connection to the public, because that is what we are interested in, so that people have chamber music.

Traian Boala, you Arcadia members, how did you adapt to the pandemic?
Traian Boală: Initially, when that quarantine period came, wedid some recordings, each at their home, later edited by me, on the computer, so that we could post them and have somewhat of an activity during that period. Then, after therestrictions weren't as harsh, I had a number of concerts, including in Bucharest, during the Magic Summer Festival. This autumn I had a number of concerts in Satu Mare, in Oradea, in Cluj, which you mentioned earlier. So, our activity is surprisingly quite active during this period, but we expect that for this to become a rarer occurrence now that more and more cities are closing their halls. You are asking about the positive side of this break. I don't know what to tell you. From ourpurely artistic point of view,the fact that, firstly, the approach to the public is increasingly rare and less, and secondly, the fact that practically nothing that will happen in a few days is knownis a great shortcoming. There are concerts that are scheduled only to be cancelled. Given the situation we are in, we're not complaining, that's the situation. We, theentire society, have to get over this moment. But, until then, we are trying to keep our artistic activity going for as much as possible.

Next year you will celebrate 15 years of activity, right? Will you mark this, say young, age of the Quartet in a special way?
Traian Boala: If possible, of course. We don't have a plan. There are still many plans. We would have a tour in Japan, in the UK, but it is very difficult to plan something at the moment, but, if possible, we will think of something.

I guess you're continuing your project, Mieczysław Weinberg, aren't you, Integral String Quartet?
Traian Boala: Yes, the next recording session is scheduled for March 2021. But we will see then if travelling will be possible.

Monica Florescu, what musical events do you have planned for the next period?
Monica Florescu: Of course we will have to collaborate nationally for the next period and we enjoy this opportunity to invite specialRomanian musicians to our chamber season. There will be further projects with violinist Valentin Șerban andviolist Răzvan Popovici, the director of the SoNoRo festival. These remarkable musicians will be present in our season. They were present last season as well. They will be present in our season, starting next year, and others will join them, because we also have the idea of ​​collaborating with very valuable international musicians, who have been in our season. It is to be continued, once we will be able to practically resume the activity internationally and once we will be able to call other musicians. For now, our focus is on the values ​​here in the country. We hope to see the public again soon. We intend to continue contributing to the creation of new opportunities, in order to be able to invite these valuable artists here and this is what we want.

Monica Florescu, Traian Boală, I wish you success good health, in the hope that the future holds better times for us.
Monica Florescu: May God hear you! Arcadia, we look forward to seeing you in Sibiu.
Traian Boala: I can't wait to see you and to sing there.
Interview by Gabriel Marica
Translated by Drangoi Ioana – Alexandra,
University of Bucharest, Faculty of Foreign Languages and Literatures, MTTLC, year II
Corrected by Silvia Petrescu