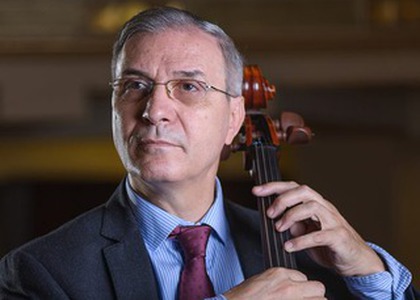 Marin Cazacu, Week's Guest in Perpetuum Mobile
Friday, 27 November 2020 , ora 19.33

On Monday, November 30th, The Youth Romanian Orchestra will an online concert which can be watch on the Facebook page of the "Tinerimea Romana" National Centre of Art. The ensemble will perform works by Constantin Silvestri, Constantin Dimitrescu, Ciprian Porumbescu, Ludwig van Beethoven and Sabin Păutza. The cellist Marin Cazacu has talked about this concert in Perpetuum Mobile, as one of the Week's Guests:

I welcome the cellist Marin Cazacu! Maestro, I'm glad to hear you again in Perpetuum Mobile.
Thank you for inviting me! I'm very glad, too.

Isaid earlier that you were preparing a surprise for the public, you and the ensemble you and Cristian Mandeal created- The Romanian Youth Orchestra. It is the concert we're going to listen on Monday, November 30th. Can you tell us more details about it?
I would have liked to offer you more suprises. In fact, they were ready, but they became in turn the surprises of other surprises. I mean this project we are going to present on November 30th it should initially have been carried out by a German-Romanian youth orchestra, with two extraordinary concerts in Bucharest, at the Romanian Atheneum and in Berlin, at Konzerthaus. Why such a type of project? Because over the second part of 2020, Germany has assumedthe presidency of the European Council and Romania is preparing to celebrate its National Day on December 1st and that way we could have addressed both major events for the two musical entities - the Youth Orchestra of Germany and the Youth Orchestra of Romania. It was a beautiful project, but unfortunately, only the Romanian Youth Orchestra has remained and will perform music from the German and Romanian repertoire. We've recently made a recording, which we will present on this occasion, November 30th. However, this event will be promoted on the site of the Romanian Embassy in Berlin as well as on the site of the German Embassy in Bucharest. Like I said it is organised to honour the German presidency and the Romanian National Day.
The first part of the programme we are going to present to the public is Romanian, consisting of three musical pieces by Constantin Silvestri. The cellist Stefan Cazacy will perform the Romanian Serenade and the Peasant Dance by Constantin Dimitrescu. Then follows Alexandru Tomescu with the famous Ballad by Ciprian Porumbescu. The first part will end with Romanian Dances, in an arrangement held in first audition by Sabin Pautza. In the second part of the programme, there will be German music. We will listen to the Second Symphony in D major op.36 by Ludwig van Beethoven.Conductor Cristian Mandeal has prepared and supported this project from the very beginning and we are glad to have him by our side and we hope that those who will listen to this music will fully enjoy it and share with us both the sad moments and, especially, the joy, becausethese young people have the chance of a project that they will eventually carry out, even if in a donwsized and rather different form.

It will undoubtedly be an event-concert. You will also mark the Beethoven year on this occasion. But I would like to stick to the period of time you talked about earlier; it brought up the changes you mentioned. You are one of the musicians closest to the young generation, both on a personal level - your two children are musicians- and on a professional level. Here you are all this time close to the Romanian Youth Orchestra, also as a professor. How have you felt about the young performers all this period of time and what advice did you give them?
I lived together with them, as the entire Romanian society, the same drama. These young people are asking themselves which role they are going to play in a future society -there's a question that many people asks themselves - do we still need classical music? Of course, there are questions which need to be answered. I encouraged them not to forget that we are those who should promote music, who should go into people's souls and that without us the would would be much poorer - without music, in general, and without artists to express the feelings that the humanity needs so much.
We managed to have several special events during this sad period. He made projects with all the four youth orchestras - Junior, Sinfonietta, Youth Romanina Orchestra and Romanian National Symphonic Orchestra - this summer in Sinaia and Bucharest - 14 concerts with these wonderful young people. These concerts were an oxygen bubble for them and for all those who wanted to listen to classical music. We made another national tour in September, when it was still possible, in Sibiu, Timișoara and Bucharest, celebrating the Union of Composers on its 100th anniversary. And, unfortunately, we had to limit ourselved to what we were allowed to do. We hope that these young people will not forget that music will save them and us as well.

I would like to talk about projects. Another concert to take place in the next period is the traditional concert Magic Winter, which you are preparing along with the Romanian Youth Orchestra. What will you present us this year and how will the event be carried out, if we consider the imposed restrictions?
It is impossible to have a concert as we would have liked. It will also be a recording made over a longer period of time- through which we will present between Christmas and New Year's Eve this special project.We hope that Radio Romania and Romanian Television will broadcast the event as well. In this project the Romanian Youth Orchestra led by Maestro Cristian Mandeal will present to the public the Peer Gynt Suite by Edvard Grig, narrated by the actor Adrian Păduraru and we will present in first absolute audition a few traditional Romanian Christmas Carols fromall the regions of Romania. And we will end on a merry note that we hope to convey to our public, with famous works from the repertoire of Johann Strauss and Josef Strauss.
Interview taken by Lucian Haralambie
Translated by Bobocescu Carmen,
University of Bucharest, Faculty of Foreign Languages and Literatures, MTTLC, year II
Corrected by Silvia Petrescu