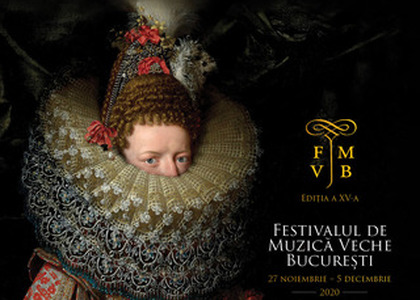 Laurențiu Constantin, everything about the 15th edition of the Bucharest Early Music Festival
Thursday, 3 December 2020 , ora 15.13

The 15th edition of the Bucharest Early Music Festival takes place from November 27th to December 5th, 2020. The organizers of the event have decided that the show must go on. However, because of this struggling year, it should take place online. Laurențiu Constantin, director of the Medieval Praxis Agency and organizer of the series spoke about this year's edition in an interview given in the Perpetuum Mobile show:

Laurențiu, with the help of the 21st century technology, you continue to offer us the music of the 17th and 18th centuries. The new edition of the Early Music Festival is now100% online. For starters, I would like to talk about the organization of this year's series. How was this online transition, from your point of view?
First of all, the schedule of the 17th edition starts tomorrow night and it is in its fourth edition this year. What we have scheduled now has almost nothing to do with what we set out to do in January. Things have evolved as we all have expected to happen in thesestrugglingtimes and we have adapted the best we could. We tried to do something more than just moving it into online; that is, to film and broadcast it. We tried to do all these, but we will also present some live performances in addition to some pre-recorded concerts. They were filmed, but in one piece, exactly like in a live performance. Basically, we filmed a concert, we didn't try to edit a movie forscreening, in which we corrected imperfections. We tried to keep the spirit of a live performance and, to some extent, of the concert atmosphere.

Let's make a point to point analysis. Theguitarist Xavier Diaz-Latorre and the harpsichordists Ketil Haugsand and Yuko Inoue are the guests who are from beyond Romania's borders. They will perform in two of the seven concerts of the Bucharest Early Music Festival. It's about the King's Guitar and Bach. Sons and friends - these are their titles. What do they have to show us in these two evenings of the festival
Xavier Diaz-Latorre has prepared a charming performance with a theorbo solo and baroque guitar from the seventeenth century. This somehow revives the musical atmosphere of the Royal Court of Louis XIV. The performance is built mainly around a repertoire by Robert de Visee, about half of the repertoire will be played on Saturday night.The other composers are Francesque Corbetta and Jean-Baptiste Lully. Robert de Visee was employed at the French Court at the end of the 17th century; afterwards he earned the title of Maître de Guitarre du Roi and the reputation of a legendary musician. You know how some violinists prove their skills by singing Paganini? Well, the fiddlers, guitarists or theorists prove their skill by singing Robert de Visee. Visee is a repertoire of full maturity, and Xavier Diaz-Latorre is currently one of the world's first fiddlers; he is an old friend of our festival and this is the third time we invited him to the festival.
Bach. Sons and Friends is a program with a repertoire for harpsichord and piano. Again, it is a program thatan older friend of our festival, the Norwegian harpsichordist Ketil Haugsand, was kind enough to record and send for our festival. It is a program designed and recorded especially for our festival.

These concerts are scheduled on ...?
Xavier Diaz-Latorre with La guitare du Roi will play on Saturday, November 28th, at 7 pm, and Ketil Haugsand's recital on harpsichord and Yuko Inoue - on Thursday, December 3rd, also from 7 pm.

But let's start with Bach by concerts - this is the first event. It will take place tomorrow night. 2020 is also Bach's year. It has been 335 years since his birth, and 270 years since his death. What will be the novelty of Bach's music presented at the Bucharest Early Music Festival?
The motto of our festival has been for many years "Discover the novelty of old music!". We do not deal with musical archeology, but with the freshness of this music. In the opening concert - as you said, it is Bach's anniversary, any year that has a zero in the queue also means an anniversary - three Bach concerts are scheduled: BWV 1054, BWV 1041 and BWV 1064R. It's an old thought of ours. We had it for almost two years. We wanted to do these concerts. We brought together musicians from Bucharest and from the country, respectively Melinda Beres, Mircea Ionescu and Rafael Butaru on baroque violins, Csibi David on viola, Ciprian Câmpean on baroque cello, Istvan Csata on violins, respectively Raluca Enea on harpsichord. There are musicians from all over the country who gathered in Bucharest, rehearsed and they are ready to put everything into a show. The novelty of early music comes from the fact that the interpretation of each generation, each musician, with all the stricness they put into playingan instrument for which the music was written and the way it was played at that time - a way that is very well known because baroque music is a music with a high degree of elaboration. It is the interpretation of these people, these young musicians, that brings the novelty of Bach's music. We, the organizers and the musicians, are convinced that in a few decades no one will talk about Madonna's music, let's say. After 300 years - now being at 200 years after Bach's death - his music will still be performed and it will still be talked about.
This is not the only celebration. I would like to point out a second one. Apart from Bach by concerts, which will be presented tomorrow night at the opening of the festival, we have a second concert which is also a production of our festival, Handel vs. Handel. It is made up of concerts, trio sonatas and arias. It is scheduled for December 5th, also from 7 pm.

It is the closing concert, isn't it?
Yes, it is. We start with Bach, we end with Handel. The latter will be interpreted by Mircea Ionescu and Rafael Butaru on baroque violins, Ciprian Câmpean on cello, Raluca Enea on harpsichord and a young and very promising soprano in this field of baroque music, Cristina Vasilache.

There is a list of performers that will be updated. Alongside the musicians you have already mentioned, there will also be the members of the Codex ensemble. Where we can find the concerts from the Bucharest Early Music Festival?
The concerts will be availableon Youtube and also on the Facebook Pages of the Bucharest Early Music Festival, as well as on its website, www.earlymusic.ro.
Interview by Lucian Haralambie
Translated by Oacheșu Ioana,
University of Bucharest, Faculty of Foreign Languages and Literatures, MTTLC, year I
Corrected by Silvia Petrescu