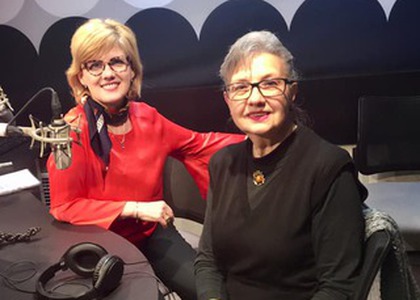 Interview with soprano Georgeta Stoleriu
Wednesday, 20 January 2021 , ora 14.30

Today, soprano Georgeta Stoleriu turns 75 years old and what can be greater at this age than being surrounded by young people and celebrating among them! And I wanted, I confess, that I wanted to point out this anniversary also because the soprano Georgeta Stoleriu was an extremely close artist to Radiodifuziunea Romn, as she declared.

How did this annyversary find you? Do not tell me you where at the Conversatory!
Thats right, because, well, this has been my life for years and years. The exam session is starting soon and I always have an exam on my birthday.

I think its a blessing for anyone to be amongst students!
Yes, of course it is, especially among students, but also amongst my colleagues, of course.

Naturally, celebrating your birthday was doubled by according the grant you have been funding for over 25 years in memory of your former canto teacher, Mrs. Iolanda Mrculescu. This year theres only the anniversary left, right?
For now, yes. Because if I would have organized again this year a grant edition, I should have held it without public. And, I do not like this option. I know it is only temporary, but I consider it a compromise that is not always beneficial. Therefore, I reason that, with Gods will, this year we will get rid of this Damocles sword thats hanging over our head, this pandemic, and maybe later we will have the possibility to organize it in a room with public.

So, only an anniversary this year, and still among students, among your colleagues. So to get that the Bucharest Music University is functioning as normal?
Yes. It was our choice to choose this option. All of the students in my group wanted to be present physically. We also had two cases of Corona in our class, but they recovered just fine. We held our class as normal and we were both happy to do it like this. Its something else!

Any anniversary, after a certain age, comes with an assortment of thoughts and experiences. How did this anniversary find you?
You know, this assortment includes, actually, only one element, which dominates the feelings and the thoughts, the health I long for. If Im in good health, I am certain that I will still have enough to say and I will have the same passion and pleasure for this thing I have been doing for 50 years.

Mrs. Stoleriu, I am wishing you a happy birthday once again! And I am sending from the Radio Romnia Muzical studio the warmest hugs! Thank you for this.
Thank you so much and allow me to tell you one last thing... I am what I am, just the way I am, but thank you to the Radio mainly because without all the recodings, without all the transmissions and re-transmissions I wouldnt be what I am! Even the sound people loved me, and I loved them back, and the producers, and everyone I mean, I had some extremely nice relationships with everyone.
Interview by Luminița Arvunescu
Translated by Tufă Nina Iulia,
University of Bucharest, Faculty of Foreign Languages and Literatures, MTTLC, year I
Corrected by Silvia Petrescu