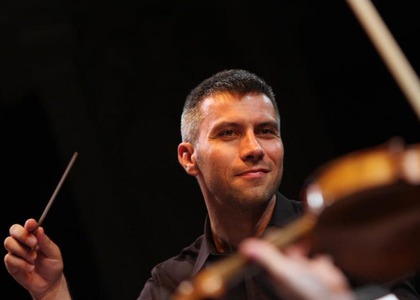 Interview with Conductor Tiberiu Soare
Thursday, 28 January 2021 , ora 15.50

Today is the anniversary of 265 years since Wolfgang Amadeus Mozart was born, on the 27th of January 2021. We are celebrating this occasion with a concert that also happens to mark, the relaunch of events without a live audience on the Sala Radio stage. We spoke to Conductor TiberiuSoare, who shall lead the Romanian Radio Chamber Orchestra, about this night's event and what Radio Romania Musical will broadcast live.

How does it feel to return to the stage for a concert that relaunches the series of events from Sala Radio?
Personally, I am filled with emotions at the opportunity because, by chance or otherwise, this concert is taking place exactly on the night of the 27th of January 2021 and we are celebrating the 265th Anniversary of arguably the greatest musician to have ever lived, Wolfgang Amadeus Mozart. We honour him the best way we could, through a concert with an orchestra on stage, so for me, I am filled with emotions at this opportunity. I carry a very large responsibility as well, but I am also very happy of course!

What can you tell us about the chosen scores? You shall conduct the Romanian Radio Chamber Orchestra and pianist Horia Mihail shall perform as the soloist.
Yes, Horia Mihail, I'm greatly looking forward to seeing him again! We have not collaborated for a while due to the restrictions caused by the new virus. But, I am very glad that we can meet again not only on the big stage, but also with the occasion of this superb concert in A Major for the piano and the Wolfgang Amadeus Mozart orchestra, the so-called "Small A Major" (it is called that way because another one exists), that being Concerto no. 12 in A Major. A concert piece, this concert in A Major, was writtenduring the yearsafter Mozart settled in Vienna. We know for sure that it was presented in one of his concerts, as such, Mozart himself was conductor and soloist when it was performed for the first time. This concert bears the mark of Vienna. This is an extraordinarily mature piece considering Mozart's age at the time. A concert that radiates an incredible unity. I will only say this, to not change our discussion into a very technical one, but I believe that this is the first time in the history of concerts when in the second movement, as in the slow part of the concert, the main theme from the first movement is treated as the secondary theme. In terms of musical motifs, it holds a remarkable unity and I would say it is a lesson in composition even by today's standards. It is a remarkable piece and seeing as it belongs to a genius, you should not miss out on the opportunity to listen to it.
As for the Haffner Symphony, in D Major, no. 35 she is an older friend of mine and of the Romanian Radio Chamber Orchestra. Sometime in Autumn, in September, I held a recording session with this symphony and I am happy to tell you that over time - we, all of us musicians on the stage - realised that there are still things for us to discover and to master when it comes to the interpretation of these splendid compositions. Actually, I could say that there is no feasible way that any of Mozart's compositions could ever truly be properly represented in a single definitive interpretation. And maybe that is where the beauty of Mozart's works truly lies, in the fact that there is no limit to the amount of interpretations that can be evoked from these splendid musical compositions.

Tell us how the rehearsals are coming along!
For now, very well and I hope we can keep this up. Of course, there are the strict restrictions imposed by sanitation and hygiene rules. The musicians, for example, only one person can sit at a stand, a practice not in our favour in terms of musical unity, but we have made great efforts in order to deliver music of the highest quality to the ears of the awaiting public. I am absolutely certain that we will succeed, we are on the right path.

Do you believe that the vaccine is the solution in order for things to return to normal when it comes to the presence of an audience in the concert halls? Will you get vaccinated?
Yes, of course I will get vaccinated when my turn comes. I don't have any form of objection to the idea of a vaccine, not only as a citizen, but also as a parent. Vaccination is one of the benefits of civilization in the same way electricity is, or public transport, which spares us from walking on foot or in a wagon. The same way we benefit from things that are tied to a proper civilization, vaccination is also tied to civilization, I believe. Now if it reprezents the solution...of course here we must pay attention to what medical and epidemiological specialists say to us... perhaps with the vaccine and proper measures and by respecting all restrictions we could get out of this mess, at least when it comes to artistic activities.
Interview by Alexandra Scumpu
Translated by Yang Jin Cristian,
University of Bucharest, Faculty of Foreign Languages and Literatures, MTTLC, year I
Corrected by Silvia Petrescu