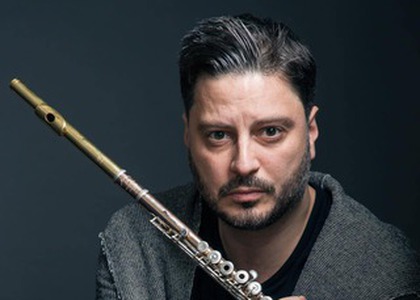 Interview with flautist Matei Ioachimescu about the concert composed by Kalevi Aho
Wednesday, 3 February 2021 , ora 15.33

The Finnish composer Kalevi Aho announced that he had finalized his 35th concert. The score designed for the alto flute and a smaller orchestra was written to be performed by flautist Matei Ioachimescu and conducted by Gabriel Bebeselea. The concert's debut will take place in Skopje, next year on February.
More details are brought to us by MateiIoachimescu, interviewed by Florica Jalbă:

We were happy to hear about the news from KaleviAho - his 35th concert is dedicated to you and to the conductor Gabriel Bebeselea. How did you find out about this?
We were extremely happy and surprised - it's true. It seems that even in times like these, there exist people who create.KaleviAhois internationally known for his ability to write a large amount of music. This year he finished multiple concerts for all kinds of instruments. Last year he finished Symphony no. 18. This collaboration started two or three years ago with the debut of his flute concert along with Radio Orchestra with Maestro Gabriel Bebeselea. That concert is one of the most well-known concerts by KaleviAho, with me being practically the second flautist that dared to tackle that incredibly difficult composition. As such, the mutual enthusiasm shared between conductor Gabriel Bebeselea, Radio Orchestra and I brought us together. And the Romanian debut of the Flute Concert took place and Kalevi Aho was very pleased and held on to this idea of dedicating a new concert to us. Therefore, the 35th concert for a solo instrument and orchestra came to be. He wrote concerts for absolutely all orchestral instruments for some of the biggest soloists of the time. We still have not seen the written composition to this concert, this concert for alto flute and string orchestra (20 musicians).What we found out from the composer is that the score will be split in six parts and will last around 25 minutes. I anticipate that it will be an international success. We know for sure that the debut will take place next year on February, at the Philharmonic in Skopje in North Macedonia (in an absolutely spectacular hall, a concert hall built relatively recently with extraordinary acoustics), together with Gabriel Bebeselea.

A concert for alto flute and, from what I have seen, four out of the six parts are intended for bass flute.
Yes, Kalevi Aho wished to include this rarely used instrument, the bass flute.

Tomorrow you shall hold an online masterclass, which will last a week. Tell us, briefly, from where do the students come from?
This masterclass is not by coincidence. I have been holding masterclasses like these in Romania for many years. Of course, we wish we could have met in person the same way we did every year. The masterclasses are aimedprimarily towards young Romanian flautists. We have been planning for a very long time to get them used to some West-European standards. There is a large amount of interest in this. Now there are even some students studying at Tallinn, another student in Munchen. Of course, my new position in Romania, that of a professor at the Faculty of Music and Theatre in Timisoara, draws attention. Regarding online work, I work very intensely with my students. I believe we have a lot to learn from this entire crisis. We managed to adapt very well to the current circumstances.

What else would we wish to learn, in the current context of the pandemic, do you believe that vaccination will resolve the current situation and will we be able to return to normal?
My stance on this is very simple. We must have faith in the current science. It is clearly, the most efficient solution to escape this crisis and to be able to meet again with our dear audience that we greatly miss. As a result, of course, not vaccinating is out of the question. I eagerly await to receive this vaccine as well, with the hopes that we will escape this crisis as soon as possible.

Photo credit: Ionuț Macri
Interview by Florica Jalbă
Translated by Yang Jin Cristian,
University of Bucharest, Faculty of Foreign Languages and Literatures, MTTLC, year I
Corrected by Silvia Petrescu