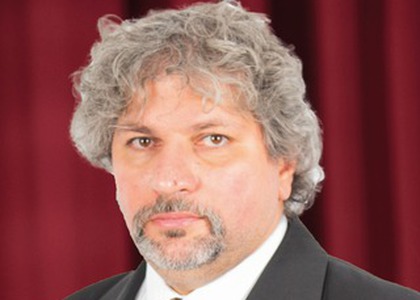 Interview with the artistic director of the Oradea Philharmonic, Kurucz Tibor
Wednesday, 17 February 2021 , ora 13.51

The Oradea Philharmonic carried out itsactivityonline due to the restrictions imposed. Recently it was offered the possibility that artistic institutions could sell 30% or, in some cases, 50% of all tickets.
In his second year as artistic director, Kurucz Tibor spoke to us in the following interview about future events scheduled in the concert agenda of the Oradea Philharmonic.

How has the Oradea Philharmonic carried out its work since you received the position of artistic director of the institution?
I have had this function since October 2019. Unfortunately, many of the concerts scheduled for the second part of the 2019-2020 season, due to the pandemic, have been postponed. Some of them I managed to reschedule, some will be rescheduled. The year 2020, I think was a touchstone for all cultural institutions.I think the Oradea Philharmonic took full advantage of the relaxation we had, starting in June, when we were the first to start with outdoor concerts. Here I would like to thank the Roman Catholic Diocese of Oradea for providing us with the ward's courtyard, amagnificent location, where we managed to give in June-July, 10 concerts, with a very nice audience, 300-350 people per concert.

What does the Oradea Philharmonic's concert schedule look like for this second part of the season?
On the 28th of December last year, we learned that in Oradea, the accumulated incidence reached less than 3 per thousand inhabitants, and we were allowed to perform concerts with an audience of up to 30% of the capacity of the hall. We enjoyed this enormously, both ourselves and our audience, and on the 6th, 7th, 8th of January we held three New Year's concerts. Since then, we can say that we are, somewhat, in a normality, and we have weekly concerts. In the last two weeks of March, we will organize the 10th edition of the Spring Festival, where we will have guests of high level artists such as maestro Horia Andreescu, Tiberiu Soare, Cristian Lupeș or cellist Răzvan Suma. Otherwise, as I told you, we are trying to reschedule the concerts that have been postponed, which is not an easy thing, because the pandemic situation can change from day to day. We need to be prepared to make changes, quick changes.

Have you also prepared a backup plan for the idea that online business would be required again?
You always have to have a backup plan ready. We hope we don't have to go back to online concerts. In the past year, November and December we have performed nine concerts online, each with around 10-12,000 views, which I think is a very good thing, but still, it would be good to keep it that way, with the audience.

Given the period we are going through, do you think vaccination would be the solution to returning to concert halls? Would you opt for vaccination?
I believe that vaccination is the only solution, so that we can return to normality and yes, I would also like to vaccinate myself at the right time.
Interview by Maria-Isabela Nica
Translated by Dărăban Denisa,
University Of Bucharest, Faculty of Foreign Languages and Literatures, MTTLC, year I
Corrected by Silvia Petrescu