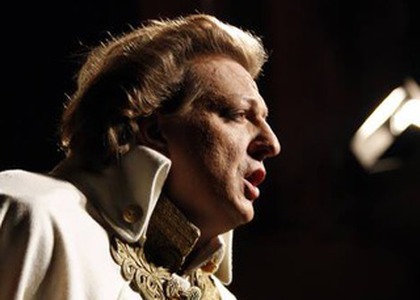 Interview with baritone Cristian Rudic, Manager of The National Opera House in Timisoara
Thursday, 18 February 2021 , ora 15.03

Music institutions have to adjust to this difficult period either by broadcasting archive material or by running online projects. The baritone Cristian Rudic, the manager of the institution, talked about the way the current pandemic has changed the activity of The National Opera House in Timisoara and also about what the institution has to offer this season.

Mr. Cristian Rudic, how deeply has the current pandemic impacted the activity of The National Opera House in Timisoara?
Like the rest of the world, we too have been badly affected by this awful pandemic. Obviously, alongside similar institutions, we miss our audiences and we miss getting feedback - it's a downside we're all trying to deal with. As for The National Opera House in Timisoara, our mission is to makeuse of every means that is available to a lyric theatre. In other words, we plan to offer our audiences all that it is to be offered, with people attending whenever possible, and when that is no longer possible, we too shall resort to the overused (and maybe abused)online means, playing pre- existent recordings included. I personally disapproved of this trend for a while as I've always held dear to the belief that, even in the form of recordings, people must be given something new, even though recording something in today's circumstances, with masks and social distancing, is no easy job. So we decided to resort to the accuracy of the means, theatrical and as well as musical, because, in the end, dramma per musicais, as the name implies, theatrical performance set to music. We're well aware that lyric theatres make use of ballet dancers, a choir, an orchestra, lots of people in other words, and as such performances can't be staged anywhere in Timisoara, we used the outdoor stage in the Rozelor Park, Capitol Garden, with Mr Garboni, director of Banat Philharmonic Orchestra, as our lovely host.
As everyone in this line of business, we schedule and reschedule. We are currently working on a project called Musical Timisoara, a festival which was imagined decades ago by Ion Romanu as a joint project between Banat Philharmonic Orchestra and The National Opera House in Timisoara. These two institutions lie at the heart of every major musical event in this city which is soon to be acknowledged as a cultural capital.Thus we plan to open the festival with Servapadrona directed by Silviu Purcarete and in Dragos Buhagiar's scenography whom I take great pride in introducing as a new valuable employee of The National Opera House in Timisoara; Mihnea Ignat will be conducting. So the festival opens with this unique and somehow big scale event given the current situation. When Silviu Purcarete directs something, that play is sure to be performed for the next 5 to 15 or even 20 years, that's the case of lyric theatre, at least. Right here in Timisoara, Maestro Purcarete also staged Carmen three seasons ago - it was, in fact, the first opera performance that he staged in Romania.
We have scheduled the opening on April 25 and we trust we'll be able to do it with people present, though at this point Timisoara is still under the red scenario, which means we can't perform in front of an audience. As for the closing performance, we have decided on An Alpine Symphony delivered by the two orchestras. We won't be able to do it though unless we get the necessary suport from the City Hall. It's going to be an outdoor event which implies additional costs and, of course, infrastructure and safety backup.

I'd really like to know your attitude towards vaccination. Is it the only way to make it possible for people to return to concert halls?
In my opinion, vaccination is our only hope - I can't think of another way to end the current situation. Thus, I can only advise people to take the vaccine. There's no other way for us to get our lives back.
Interview by Alexandra Scumpu
Translated by Elena Florea,
University of Bucharest, Faculty of Foreign Languages and Literatures, MTTLC, year I
Corrected by Silvia Petrescu