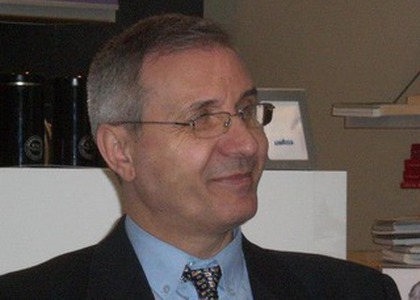 Interview with Marin Cazacu - Director of the "Tinerimea Română" National Art Center
Friday, 19 February 2021 , ora 15.22

Being a national holiday, the Brâncuși Day will be commemorated on Radio România Muzical on Friday, February 19th. The concert of the Romanian Youth Orchestra conducted by Cristian Mandeal and recorded at the Romanian National Art Museum will be broadcast from 3:30PM. You will be able to listen to three folkloric suites in a musical arrangement realized by Mihai Gherghelaș (the last one consisting of pieces from Maria Tănase's repertory), three works from Grigoraș Dinicu's creation, in the musical arrangement of Eduard Boboia, as well as "Dans Maramureșan" by Sabin Păutza. Soloists - singer Monica Bejenaru and violinist Simina Croitoru.

This year, the Constantin Brâncuși Day is celebrated in the context of 145 years since the birth of the great Romanian composer. Where did the idea of this concert with a folkloric theme come from?
Very simple! While reading about Constantin Brâncuși and his musical preferences I have discovered, some time ago, that he loved Romanian folkloric music. He adored it, and, of course, he was so touched by Maria Tănase's interpretations that he even told her at some point, and I quote: "When I hear you singing, Maria, I would be capable of sculpting an exquisite bird for every song of ours." You can imagine that Maria Tănase's interpretations and the Romanian folkloric music touched and inspired him. We should not forget that he played the flute and sang in the church choir! Therefore, he was close to the music.

It is even said that she was a muse for his works of art, at some point.
Indeed she was. Besides, we admire and have many times admired his works of art… unfortunately there are few of them in Romania and more abroad, but some of them were presented at the Europalia Festival in Bruxelles, last year, and the exhibition was one of the most beautiful that I have ever visited. Thus, because Constantin Brâncuși loved music, and especially this kind of music, we thought about dedicating it to his memory and paying him homage by singing the music that he so much appreciated. The Romanian Youth Orchestra conducted by maestro Cristian Mandeal has planned this extremely special concert because, apart from the members of the orchestra, the soloists are really special. One of our violinists from the orchestra will play the instrumental parts, and one of the violists will be the voice of these wonderful songs - they are violinist Simina Croitoru and soloist Monica Bejenaru. An exceptional pianist will play the dulcimer, he being one of the best pianists from his generation - Cătălin Răducanu, extremely special. On the pan flute will be one of our students that has recently graduated from the Bucharest Conservatory at this instrument. Look how things combine with the joy of young people to participate in this unique event, unique for those who listen, and the arrangements are completely different from a usual folk band that sings traditional music. And we have maestro Mandeal in front of this orchestra, who had so much fun participating in this project that will be exciting. I am convinced it will be one of the most interesting projects we have ever realized.

Consequently, all the pieces are selected from Constantin Brâncuși's preferences!
Yes. His grace owned almost two thousand disks. We selected them starting from the Gorj area, where Constantin Brâncuși was born, then we made a cultural itinerary passing through all the historical folkloric areas in Romania - Banat, Crișana, Maramureș, Transilvania, Bucovina, Moldova, going down through Dobrogea and Muntenia. We thought about having all this music through which all the country could pay homage to him.

One last question, as we are still in the middle of the vaccination campaign. What is your opinion about it? Do you believe that vaccination could solve the current situation and we will be able to return to normal, including the musical life?
I hope this thing will happen. I will take the vaccine and I also advise others to do it, because since we have this chance it would be best not to miss it. For us, for the cultural environment in general, the pandemic has been a disaster. We do not want this disaster to go on, because we want to be close to the public, we want people to fully live the emotions that artists create and to enjoy together all the creations of the world's great artists.
Interview by Florica Jalbă
Translated by Lica Alexandra,
University of Bucharest, Faculty of Foreign Languages and Literatures, MTTLC, year I
Corrected by Silvia Petrescu