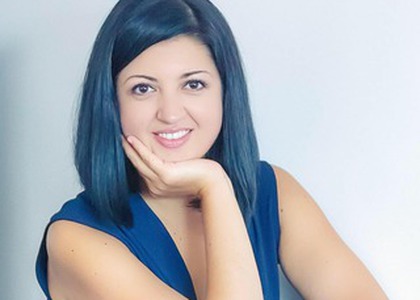 Art is sacrificed in times of pandemic. Pianist Alexandra Dariescu in dialogue with Gabriel Marica at Perpetuum Mobile
Friday, 19 February 2021 , ora 15.27

My guest tonight is pianist Alexandra Dariescu. Good evening from here, from Romania, Alexandra!
Good evening! I'm very happy to get in touch.

Alexandra, we talked in September last year, before the three concerts you gave with the Oslo Philharmonic Orchestra. You then performed Fantasy for piano by Nadia Boulanger. Please tell me what you've done in the meantime!
It seems like an eternity has passed since we spoke last time. We created a new production of The Nutcracker with the Royal Liverpool Philharmonic Orchestra and we were supposed to have three concerts at the end of December, but new restrictions came and we only did two concerts. But it was incredible because the whole production, which was for solo piano, orchestra, brass band, narration and two ballet dancers, was absolutely entirely zoomed in. Everything on the internet! In a way, the pandemic simply pushed us to push our limits and so a new production was created that was extraordinary and was the only production of this magical show, The Nutcracker, in the whole of Great Britain.

Last year you also received a very important Romanian distinction, the Order and Medal with the Cultural Merit of Romania, a distinction granted by President Klaus Iohannis, didn't you?
Yes. It was a wonderful surprise just when I really needed a little support and it was incredible! An enormous joy, honestly.

Honestly, here, the public is waiting for you with great anticipation. You realize that the Romanian public is also eager to meet the artists. Tell me, how is your business doing in this time of severe restrictions, how are you in the UK?
Unfortunately, we are absolutely isolated here in the lockdown. Flights to nowhere are not allowed. I didn't go anywhere this year, I haven't been to Romania for more than a year. I can't wait, dearest! Let's hope that everything will be fine and I will be present at the "George Enescu" Festival in September. Life here is very busy. For me it is an extraordinary time for reflection, for a lot of research. I discover a lot of pieces. I actually reset my program for the next five years. There were more than 80 concerts last year that were canceled, with very important debuts with orchestras from America, tours in China, all over Europe, but actually we have to look at the full half of the glass, we have to think about health, let's try to eradicate this horrible virus and get out of the pandemic. In the UK we are still in lockdown until March. Next week, the prime minister will announce whether there will be further restrictions, but vaccination is doing extremely well. There are more than 15 million people… all those over the age of 70 have already been vaccinated and I understand that my generation, the youngest, will be vaccinated by September; At least so they say.

So you will opt for vaccination, right?
Absolute. This is the only way out of the pandemic. And our industry, the arts - and I'm not just talking about music, the whole culture - is absolutely zero at the moment because we can't perform, we're not allowed to be in front of the public. It is a huge risk and because of this vaccination is the only way out of the pandemic.

Did I see on your Facebook page how you are an associate member of the Royal Northern College of Music?
Yes, it's the Royal Conservatory in Manchester, where I did my undergraduate studies. I have an extraordinary relationship and collaboration with them. I am also an associate honorary artist of this royal conservatory, and last week I was named an associate member. It is an extraordinary distinction that it confers on some of their students who have managed to reach a level in their careers in which they have a very positive effect. And, for me, once again, it is an extraordinary distinction, at a time when it was felt all over the world, all the artists felt a total disappointment about how we were treated in this pandemic. I know I've talked many times, it's more dangerous to go to the supermarket, to the mall than to come to the concert hall. And it is incredibly important to realize that art, culture, is not a luxury for the elite, it is part of our lives and we must fight as much as possible to succeed in maintaining it and keeping our artists. For example, in the United Kingdom, the Union of Musicians conducted a study in which it was shown that more than a third of musicians want to re-profile themselves, they want to leave the music industry altogether. We cannot let this happen. Concerts were also held during the wars, and our halls are actually empty and the artists try, of course, to be relevant and bring a little joy, but this pandemic has taken away everything that is most beautiful in our lives - to go to a performance hall, to the theater, to hear music - and I don't think there is anyone in this world, during the pandemic, who didn't listen to music, didn't see a movie, didn't read a book. I can't explain how hard it was for artists during this period!

Tell me, Alexandra, is there a protection of artists in Britain during this period?
We have a lot of unions trying and fighting for us, but unfortunately there was not a lot of support from the ministry, from the government. Of course, we are also facing another problem now, Brexit, which is, in fact, one of the most unfortunate things that could happen to those in the UK. And many generations will suffer greatly from now on.

Artistically speaking, how does Brexit influence the musical life, the life of artists?
At this point, unfortunately, when the Brexit was negotiated, I found out that there were a lot of misunderstandings on the part of Great Britain, which did not understand the difference between visas and work permits. So everyone in Europe can come to the UK to give concerts, to have tours, but all Britons who do not have another nationality, do not have a European passport can only go to Europe with a visa and work permit and of course this This is absolutely horrible, especially for orchestras touring Europe. And I understand that every country has these rules for those in the UK.

Yes, unfortunately, the free movement of art is hindered by this Brexit. What can I say! Alexandra, so you will get vaccinated, I hope we return to a normal life or at least close to normal. Plans for the future, even in this period of restrictions… can you tell us what you could or what you think at least like that, hypothetically speaking?
Plans change absolutely from one week to the next. It has never been like this in the career of any artist who knew what was going on next week or even next month. At the moment, April should be full of recitals in Germany and the United Kingdom, but apparently I don't think it will happen. And, indeed, I save this time for many projects. I started, but I won't reveal any of you because I'm the type of person, as you know… I have to be at a certain level of a project to announce it. But there are many beautiful things. I sincerely hope to come to the "George Enescu" festival in September, as I said, and to have a good reunion, to enjoy all the beautiful things that life offers us!

Alexandra Dariescu, thank you for the discussion. I wish you, as soon as possible, full halls and applause on the open stage! And, to remember the good times, we end with a moment from a concert with the public that you held here, at the Radio Hall, in the company of the National Radio Orchestra under the baton of conductor Tianyi Lu. What do you remember about that concert?
It was an extraordinary concert, where we performed for the first time in Romania Fantasy by Nadia Boulanger together and it was a female trio - and the pianist, and the conductor, and the composer being women. It was amazing! And the audience at the Radio Hall was extraordinary, the orchestra - wonderful, as usual, exceptional - and I was very happy. Those are some of the most beautiful memories that still feed my soul. Now, when we can't sing, these are the memories that make us hope to get on stage as soon as possible.
Interview by Gabriel Marica
Translated by Alma Teodora Miron,
University of Bucharest, Faculty of Foreign Languages and Literatures, MTTLC, year I
Corrected by Silvia Petrescu